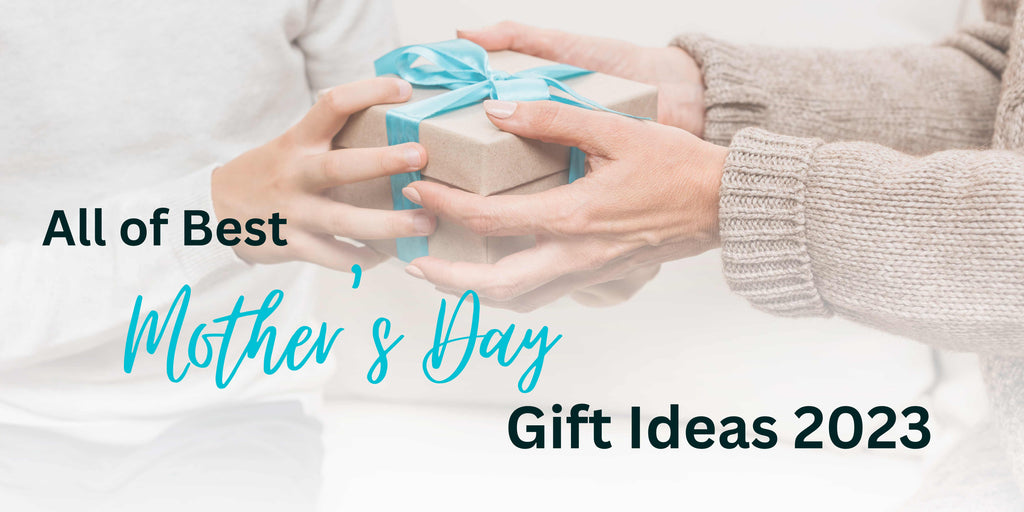 All of the Best Mother's Day Gift Ideas 2023
Motherhood is a beautiful journey filled with countless precious moments but can also be challenging. And while there's no gift that can truly express how much we appreciate our moms, a thoughtful and practical present can go a long way in making their lives easier and more comfortable.
With Mother's Day fast approaching, it's time to start thinking about what to give your mom or your partner on Mother's Day. Here are 10 gift ideas that would serve as perfect gift options:
SureThik Hair Fibers is a popular hair loss concealer that can help new moms struggling with postpartum hair loss or moms facing hair thinning or hair loss conditions. It works by covering up bald spots and thinning areas with natural-looking 100% Keratin Fibers that blend seamlessly with your natural hair color. It's easy to use and can give your mom an instant boost of confidence.
SureThik hair fibers are made of natural keratin, the same protein that makes up our hair. They come in a range of colors to match any hair shade and can be easily applied either like a salt and pepper shaker or with the help of our patented applicator. The fibers cling to existing hair strands, creating a seamless blend that looks and feels natural. And unlike other hair loss solutions, SureThik fibers are completely safe and non-invasive, making them ideal for new moms who may be breastfeeding or have sensitive skin.
Hormonal changes, stress, and nutritional deficiencies can all contribute to hair thinning and shedding, leaving our moms feeling self-conscious and frustrated. But with SureThik hair fibers, they can regain their confidence and enjoy fuller, thicker-looking hair in just seconds. And what could be a better gift than a gift of confidence?
Better Hair Care Regimen- SureThik Shampoo & Conditioner
The best way to achieve long-term hair health and thickness is to take care of it from the inside out. And that's where SureThik's Thickening Shampoo and Conditioner come in. Formulated with a blend of natural ingredients like jojoba oil, caffeine, and creatine, these products work together to nourish, strengthen, and volumize hair while also promoting a healthy scalp.
The thickening shampoo gently cleanses the hair and scalp, removing build-up and excess oil without stripping away natural moisture. It also helps improve hair texture and elasticity, making it easier to style and manage. This shampoo is specially designed to add volume and thickness to hair, making it look fuller and healthier. It's made with natural ingredients like jojoba oil, aloe vera, and hydrolyzed keratin, which help to strengthen and nourish the hair from the inside out. It's sulfate, paraben, and silicone free, making it a perfect gift for your mom.
On the other hand, the thickening conditioner provides deep hydration and nourishment to the hair shaft, reducing breakage and promoting growth. It's the perfect complement to the thickening shampoo and is made with the same natural ingredients like caffeine, jojoba oil, and creatine, which help to strengthen and nourish the hair. It also adds volume and thickness to the hair, making it look fuller and healthier. This might just be the perfect gift if your mom is dealing with dry, frizzy, flat, or thin hair and would love it if it looked thicker.
Every mom deserves a break from her busy schedule, and a spa day is the perfect way to unwind and relax. You can book a spa day for your mom, including a massage, facial, and other treatments. This will give her a chance to rejuvenate her body and mind and feel refreshed and renewed.
A Personalized Photo Book
Another great gifting option is a personalized photo book. It's a sentimental gift that any mom would appreciate. You can create a photo book with pictures of your mom and her family and friends, including pictures of her with you and your children. You can also include pictures of special moments and events in her life, like her wedding day or the day she became a mom.
High-quality skincare products can be an excellent gift option for your mom on Mother's Day. By giving her the gift of luxury skincare, you can help her take care of her skin and maintain a youthful appearance, which is something that every mom deserves. As we age, our skin becomes more vulnerable to environmental stressors, which can result in dullness, fine lines, wrinkles, and other signs of aging. That's why high-quality anti-aging products might be an excellent gift option for your mom on Mother's Day.
Here are our top recommendations:
La Mer's famous Crème de la Mer - This cream is known for its potent formula that deeply nourishes and hydrates the skin, improving the skin's texture and reducing the appearance of fine lines and wrinkles. It's an excellent choice for moms who are concerned about aging skin, and it can help restore their skin's youthful glow.
SK-II Facial Treatment Essence - SK-II is a renowned luxury skincare brand that is known for its high-quality and effective products. Their Facial Treatment Essence is a cult-favorite product that has been popular among skincare enthusiasts for years. It is a lightweight, water-like essence that contains a potent blend of ingredients that work together to improve the skin's texture, reduce the appearance of fine lines and wrinkles, and enhance overall radiance. It's a great choice for moms who want to improve their skin's overall health and achieve a brighter, more youthful-looking complexion.
Sunday Riley Good Genes All-in-One Lactic Acid Treatment - Sunday Riley is another popular luxury skincare brand that is loved by many. Their Good Genes All-in-One Lactic Acid Treatment is a powerful exfoliating treatment that helps to remove dead skin cells, brighten the complexion, and reduce the appearance of fine lines and wrinkles. It's an excellent choice for moms who want to improve their skin's texture and overall appearance. The formula contains lactic acid, which is a gentle yet effective exfoliating ingredient that is suitable for all skin types.
A Personalized Piece of Jewelry: A personalized piece of jewelry is a thoughtful and meaningful gift that your mom will cherish forever. You can choose a piece of jewelry that represents something special to your mom, like her birthstone or a symbol of her faith. You can also engrave a message or her name on the jewelry to make it even more personal.
A Personalized Apron: A personalized apron is a great gift for moms who love to cook or bake. You can have the apron embroidered with your mom's name or a message, like "World's Best Mom." This will make her feel special every time she wears the apron in the kitchen.
In conclusion, it's imperative to remember that Mother's Day is an occasion to show the special women in our lives just how much they mean to us. Whether it's your own mother, wife, grandmother, or a motherly figure, this day provides you with the opportunity to express your love and gratitude. Finding the perfect gift can be a daunting task, but with these gifting ideas, you can make sure your mom feels appreciated and cherished. For new moms struggling with postpartum hair loss or those facing hair thinning or loss conditions, SureThik Hair Fibers, Thickening Shampoo, and Conditioner are excellent options. These products can help restore confidence and promote hair health. Beyond hair care, there are many other ways to show your appreciation. Personalized photo books, spa days, personalized jewelry, and luxury skincare are all thoughtful and meaningful gifts. These options show that you put effort and consideration into choosing a gift that is unique to your mom's interests and personality.
No matter which gift you choose, the most important thing is to spend quality time with your mom and let her know how much she means to you. It's a day to celebrate the love and sacrifices of mothers, and it's an opportunity to create unforgettable memories. So, take this Mother's Day to show your mom how much she's loved and appreciated, not just on this day but every day.