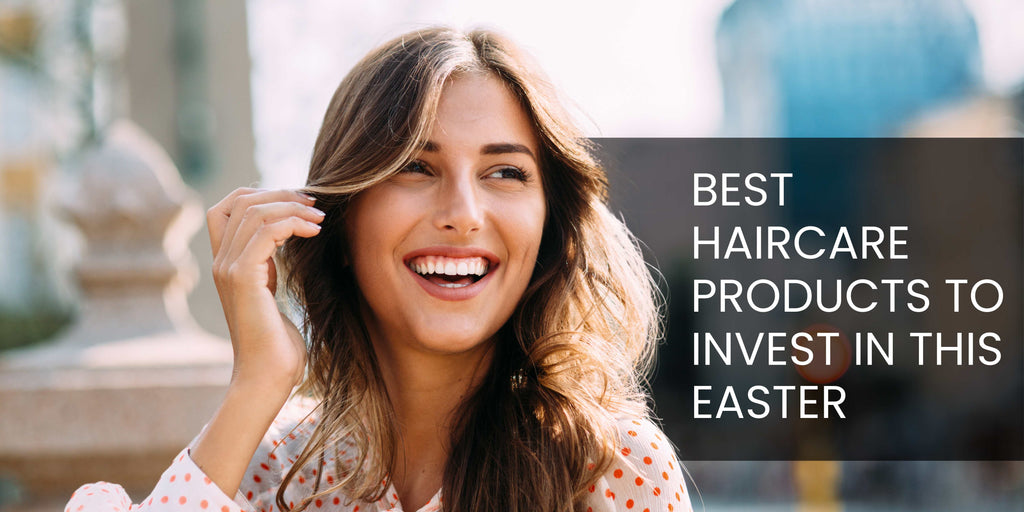 Best Haircare Products to Invest in This Easter
Easter is just around the corner, and it's the perfect time to invest in some new haircare products because of the great upcoming promotions. Whether you're looking to strengthen, nourish, or style your hair, there are plenty of products on the market to help you achieve your hair goals. In this blog post, we'll explore some of the best hair care products to invest in this Easter, to level up your hair game for spring:
1. SureThik Thickening Shampoo
If you're looking for a high-quality shampoo that will help you achieve fuller, healthier-looking hair, look no further than SureThik. SureThik Thickening Shampoo is specially formulated to help thicken and strengthen hair, while also promoting healthy hair growth. The shampoo is free from harsh chemicals like sulfates, parabens, and silicones, making them suitable for all hair types, including color-treated hair. Plus, they're safe for daily use, so you can enjoy the benefits of stronger, healthier-looking hair with every wash. To save big, make sure to get this at a 5% discount this Easter.
2. SureThik Thickening Conditioner
SureThik Thickening Conditioner is a cult favorite for a reason. It's a must-have for anyone with thinning hair or hair that lacks volume. This conditioner is specially formulated to add volume and thickness to hair, making it look fuller and more voluminous. The formula is enriched with natural ingredients like keratin, panthenol, and amino acids, which help to strengthen hair and promote healthy growth. It's also free from parabens, sulfates, and silicones, making it the perfect choice for daily use. The product is on a limited-time 5% discount this Easter, so make sure to stock up on it and enjoy voluminous nourished hair.
3. 
Moroccanoil Treatment
Moroccanoil Treatment is a lightweight, argan oil-infused formula designed to tame frizz, add shine, and nourish hair, leaving it looking and feeling healthier than ever. The treatment is suitable for all hair types and can be used on wet or dry hair. Plus, it's free from sulfates, parabens, and phthalates, making it a safe and healthy choice for your hair.
4. Living Proof Perfect Hair Day Dry Shampoo
Dry shampoo is a lifesaver for those days when you don't have time to wash your hair. Living Proof Perfect Hair Day Dry Shampoo is one of the best on the market. This lightweight formula absorbs oil and sweat, leaving hair looking and feeling clean and refreshed. Plus, it's free from sulfates, parabens, and phthalates, making it a safe and healthy choice for your hair.
SureThik Fiber Holding Spray is the perfect complement to SureThik Hair Fibers. This spray is specially designed to keep the fibers in place, ensuring that your hair looks thick and full all day long. The formula is lightweight and non-greasy, so it won't weigh down your hair or leave it feeling sticky or stiff. It is alcohol-free so you don't have to worry about using it every day. Use it as a hairspray or along with the fibers to get long-lasting voluminous hair.
Remember: Ingredients are Everything!
In addition to investing in high-quality haircare products, there are a few other things you can do to keep your hair looking and feeling its best. When choosing hair care products, it's important to consider the ingredients and the specific needs of your hair. Avoid products that contain harsh chemicals like sulfates and parabens, which can strip your hair of its natural oils and cause damage. Instead, opt for products that are formulated with nourishing ingredients like keratin, argan oil, and quinoa protein, which can help to strengthen and repair hair.
It's also important to consider your hair type and specific concerns when choosing haircare products. For example, if you have color-treated hair, you'll want to choose products that are formulated to protect your color and prevent fading. If you have fine or thinning hair, look for products that are designed to add volume and thickness.  
Here are a few tips:
Avoid over-washing your hair. Washing your hair too frequently can strip it of its natural oils and cause damage. Try to wash your hair every other day, or even less often if your hair is dry or damaged.
Use a wide-tooth comb to detangle your hair. This will help to prevent breakage and damage.
Avoid using hot tools on your hair too frequently. Heat can cause damage and breakage, so try to limit your use of hot tools like flat irons and curling irons.
Use a heat protectant spray when using hot tools. This will help to minimize damage and protect your hair from heat.
In conclusion, Easter is a great time to stock up on all your favorite hair care products and build a good hair routine. So, if you're in the market for new haircare products, why not take advantage of the Easter holiday and stock up on some of your favorites? With so many great deals and promotions available, there's never been a better time to invest in your hair and achieve the look you've always wanted. And with SureThik's Easter discount of 5% off all orders, you can save money while doing it! So why not take advantage of the special Easter discounts and try out some new haircare products? Your hair will thank you for it!