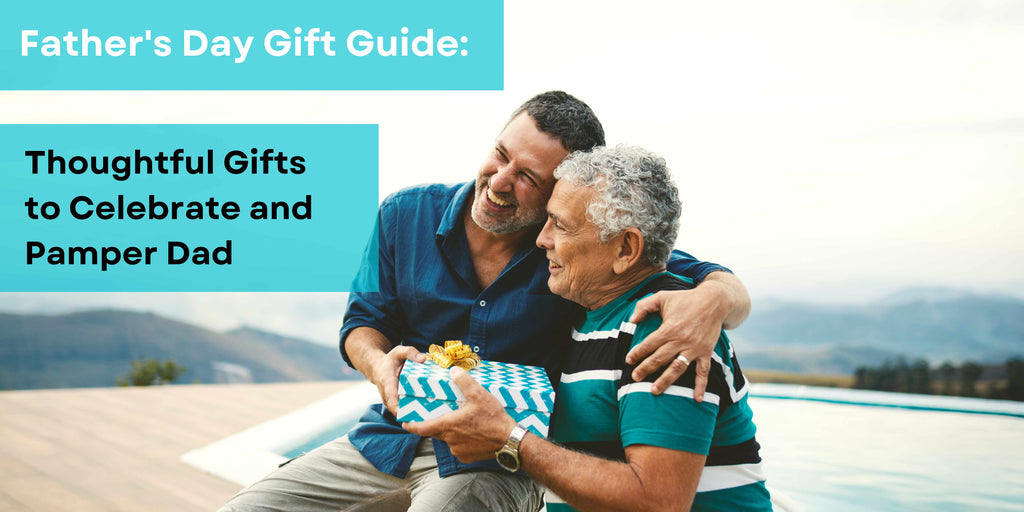 Father's Day Gift Guide: Thoughtful Gifts to Celebrate and Pamper Dad
Father's Day is just around the corner, providing the perfect opportunity to show appreciation for the incredible dads in our lives. This year let's go beyond the traditional tie or coffee mug and opt for gifts that truly make a difference. Whether your dad is concerned about his hair or simply deserves a little extra pampering, we have curated a Father's Day gift guide that shows your dad you care. These products will not only help tackle his concerns but also contribute to regaining confidence and promoting their overall esteem.
1. SureThik Hair Fibers: A Confidence Boost for Thinning Hair
If your dad struggles with thinning hair or hair loss, SureThik Hair fibers make an excellent gift. These innovative hair fibers are designed to instantly add volume and thickness to the hair, creating a natural and fuller look. Made from natural keratin protein, SureThik Hair fibers seamlessly blend with existing hair, resulting in a discreet and undetectable solution. Whether your dad has a receding hairline or noticeable patches, SureThik Hair fibers provide a boost of confidence, allowing him to feel more comfortable and assured in his appearance. Available in eight different colors, SureThik Hair Fibers provide a customizable solution to match various hair shades and help individuals regain their confidence.
Benefits of SureThik Hair Fibers:
Instantly conceals thinning hair and bald spots.
Adds volume and thickness, creating a natural-looking fullness.
100% Natural Keratin fibers blend seamlessly with existing hair.
Provides a discreet and undetectable solution.
Boosts confidence and self-esteem.
Suitable for all hair types and colors.
Resistant to wind, rain, and perspiration.
Easy to apply and remove.
If this is the first time your father would be trying out the fibers, the SureThik Starter Package stands out as an exceptional choice. It is a comprehensive package that includes everything needed to address thinning hair concerns, making it a one-stop solution to help your father regain his confidence and achieve a fuller, more voluminous head of hair.
The Starter Package Includes:
15 g SureThik Hair Fibers: The kit includes a bottle of SureThik Hair Fibers in the color of your choice.
SureThik Fiber Holding Spray: To ensure long-lasting adherence of the hair fibers, the kit includes a Fiber Holding Spray. This lightweight and flexible 100% Alcohol-Free spray provides a secure hold, keeping the fibers in place throughout the day, and adds shine to the matte fibers.
Gravity-Fed Patented Applicator: The kit also includes our patented applicator, which can be attached to the hair fibers to assist in the precise and even application of our hair fibers. The applicator ensures that the fibers are applied exactly where needed, creating a seamless blend with the existing hair. It comes with a choice of three nozzles to choose from.
Hairline Comb: The package also comes with a Hair Comb, where each side serves a different purpose. It can be used as a regular comb, as a template to create a natural hairline, and as a shield to protect the fibers from falling onto the face or clothes.
Things to keep in mind:
Choosing The Right Shade- When selecting the appropriate color of SureThik Hair Fibers, it's essential to match it as closely as possible to the individual's natural hair color. Carefully compare the color options to your father's root color, to find the perfect match.
Apply on dry hair- The fibers should be applied on completely dry and styled hair.
Just Shake or Spray- The fibers can be applied by just shaking them over thinning areas. If you buy the starter kit, your dad can choose to spray the fibers using the applicator to get coverage over detailed areas like the hairline, or the temples.
Long-Lasting Application- The fibers are wind, water, and sweat resilient so they won't stain or smear. They last until there are washed out, so it doesn't need to be applied daily.
2. SureThik Thickening Shampoo and Conditioner: Nourish and Strengthen Hair
To complement the use of SureThik Hair fibers, the SureThik Thickening Shampoo and Conditioner make an ideal addition to your Father's Day gift. These hair care products are specifically formulated to nourish and strengthen hair, promoting overall scalp and hair health. Infused with beneficial ingredients, such as caffeine, hydrolyzed keratin, and aloe vera, the SureThik Thickening Shampoo and Conditioner work synergistically to create thicker, fuller, and healthier-looking hair.
The SureThik Thickening Shampoo is designed to address thinning hair concerns and promote healthier, thicker-looking hair. This shampoo provides a gentle and effective cleansing experience while delivering essential nutrients to the scalp and hair follicles. The shampoo contains ingredients that help increase the diameter of individual hair strands, giving the appearance of thicker, fuller hair. It adds volume to the hair, making it look more abundant and vibrant.
The SureThik Thickening Conditioner is a complementary product to the SureThik Thickening Shampoo. It works in tandem with shampoo to nourish and condition the hair, promoting thickness, strength, and manageability.
Benefits of the Shampoo and Conditioner:
Sulfate, Paraben, and Silicone Free: Thin hair is generally more delicate and prone to damage. Sulfate, paraben, and silicone-free hair products help minimize hair damage as they do not strip away the natural oils that provide protection and lubrication to the hair strands. This can lead to less breakage, split ends, and overall healthier-looking hair.
Promotes Overall Hair and Scalp Health: The SureThik Thickening Shampoo and Conditioner are designed to improve the overall health of both the hair and the scalp. It helps remove excess oil, dirt, and product buildup, allowing the hair to breathe and thrive. A healthy scalp provides a favorable environment for hair growth.
Provides Essential Nutrients and Hydration: The products deliver vital nutrients and hydration to the hair and scalp, ensuring that they stay moisturized and well-nourished. This promotes optimal hair growth and improves the overall condition of the hair.
Adds Shine and Luster: SureThik Shampoo and Conditioner leaves the hair looking shiny, glossy, and healthy. It enhances the natural shine of the hair, making it appear more vibrant and youthful.
Deeply Conditions and Softens: The products contain Jojoba Oil which provides deep hydration and conditioning to the hair, making it softer, smoother, and more manageable. It helps reduce frizz and improve overall hair texture.
Detangles and Provides Lasting Hydration: The combo of shampoo and conditioner helps detangle the hair, making it easier to comb through and reducing hair fall during the styling process. The conditioner delivers long-lasting hydration to the hair, ensuring that it remains moisturized, supple, and protected against environmental damage.
By incorporating the SureThik Thickening Shampoo and Conditioner into your dad's hair care routine, you're providing him with a comprehensive solution to address thinning hair concerns, nourish his hair, and promote overall scalp health. These products work together to deliver essential nutrients, hydration, and strength, leaving his hair looking thicker, fuller, and healthier.
3. Beard Grooming Set:
If your dad sports a stylish beard, a beard grooming set is an ideal gift. Choose a comprehensive kit that includes beard oil, balm, a beard comb, and scissors. These products will help him maintain a well-groomed beard while keeping it soft, hydrated, and free from itchiness. Here is our suggestion: Manscaped Beard Kit
4. Premium Shaving Kit:
Help your dad achieve the perfect shave with a luxurious shaving kit. Look for a set that includes a high-quality razor, a shaving brush, and some soothing aftershave products. Opt for a kit that offers a close and comfortable shave, reducing irritation and leaving the skin smooth and refreshed. We recommend the following set: The Art of Shaving Iconic Duo Kit
5. Cologne or Perfume:
Fragrances make for classic Father's Day gifts. Select a cologne or perfume that matches your dad's personal taste and style. Whether he prefers a woody, citrus, or fresh scent, there are numerous options available. Consider premium brands or explore niche fragrances to give your dad a unique and personalized gift. We recommend trying out the Dior Sauvage Collection
This Father's Day, go beyond the ordinary and surprise your dad with a grooming gift that shows how much you care. Whether it's a hair fiber kit, hair care essentials, shaving kit, beard grooming set, or a captivating fragrance, these thoughtful gifts will make your dad feel appreciated and loved. Remember, grooming is not just about looking good but also about feeling confident and taking care of oneself. Choose a gift that suits your dad's style and preferences, and watch him light up with joy on his special day. Happy Father's Day!