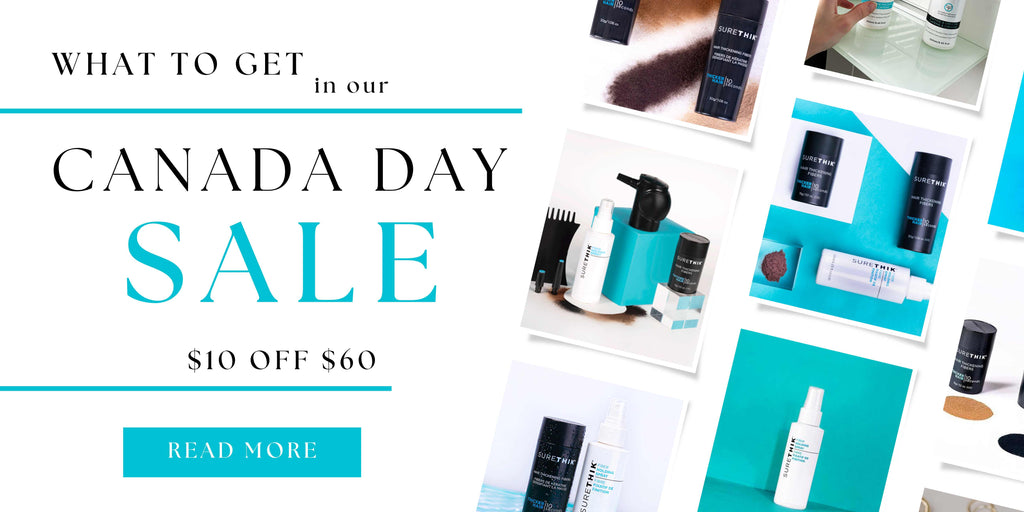 Run, Don't Walk To Our Canada Day Sale, Happening Right Now!
As Canada Day approaches, it's the perfect time to celebrate the nation's pride and take advantage of fantastic deals. We are running a huge Canada Day sale this week until July 3rd. With a discount of $10 off purchases of $60 or more, it's an opportunity you don't want to miss. In this blog, we present a comprehensive gift guide, featuring the best packages and products to look out for during SureThik's Canada Day Sale.
1. SURETHIK HAIR FIBER STARTER PACK
The SureThik Hair Fiber Starter Kit is the perfect choice for those seeking a transformative solution to achieve thicker-looking hair. This all-inclusive kit provides everything you need to enhance your hair's density and restore your confidence. This is a must-have if you're trying out fibers for the first time. The Kit includes:
(1) Bottle of 15g Hair Fibers
The key component of the Starter Kit is the SureThik Hair Building Fibers, available in various shades to match your natural hair color. These fibers are made from natural keratin proteins that bond seamlessly to your existing hair, instantly creating the appearance of thicker, fuller hair. The finely textured fibers cling to individual strands, blending flawlessly and creating a natural-looking effect. You can choose your preferred color from our range of 8 colors.
Gravity-Fed Pump Applicator
Also included in the kit is our Gravity-Fed Patented Applicator, which can be attached to the hair fiber bottle to get the most even and consistent coverage. It comes with three nozzles, great for applying fibers to precise, spot areas and hairlines. It gives you the most even coverage for perfectly natural-looking results.
The Starter Kit also includes the SureThik Fiber Locking Spray, which ensures the long-lasting hold of the hair fibers. This specialized spray secures the fibers in place, even in adverse conditions such as wind or light rain. The Fiber Holding Spray provides a strong yet flexible hold, allowing you to confidently go about your day without worrying about the fibers shifting. It also adds shine to the matte fibers, making your hair look flawless all day long.
Additionally, the SureThik Hair Fiber Starter Kit features the Hairline Optimizer, a practical tool that helps you create a natural-looking hairline. It serves multiple purposes. The irregular edge can help you create a natural-looking hairline, while the curved edge can work as a shield to protect your face and clothes while applying the fibers. The straight edge can be used if you like a straighter hairline, or in many cases for beards. The regular edge acts as a regular comb and is perfectly sized to fit in all your purses/bags.
SureThik Shampoo and Conditioner is an essential addition to your hair care routine, designed to promote healthy hair. Both the shampoo and conditioner work in synergy to enhance your hair health.
SureThik Shampoo is carefully formulated to cleanse the hair and scalp while providing volume and thickness. It gently removes impurities, excess oils, and product buildup, leaving your hair feeling clean, and refreshed.  Enriched with botanical extracts and essential nutrients like antioxidants, nettle extract, aloe vera, and caffeine, this shampoo nourishes and revitalizes your hair, promoting healthier-looking locks. The shampoo is Sulfate, Paraben, and Silicone free, making it a great choice for use with extensions and color-treated hair.  Here are some of the key benefits of using SureThik's Thickening shampoo:
Gentle Cleansing: SureThik shampoo gently cleanses without stripping away the natural oils, which helps maintain the hair's natural moisture balance. This is particularly beneficial for those with dry or sensitive scalps.
Reduced Dryness and Frizz: SureThik's shampoo preserves the hair's natural moisture, resulting in softer, smoother, and more manageable hair.
Scalp and Skin Friendliness: A Sulfate-free shampoo like SureThik is less likely to cause irritation or inflammation on the scalp and skin. They are suitable for individuals with sensitive skin, eczema, or dermatitis.
Maintains Natural Hair Oils: SureThik shampoo maintains a healthier balance of natural oils, preventing excessive oil production and promoting a healthier scalp environment.
Improved Hair Texture: By preserving natural oils and moisture, hair becomes softer, smoother, and less prone to breakage and damage.
Environmentally Friendly: Sulfates can be harsh on the environment, as they are not easily biodegradable and can contribute to water pollution. SureThik shampoo is a more environmentally friendly option, as it's typically made with milder and more natural ingredients like aloe vera and nettle extract.
SureThik Conditioner ensures your hair receives the nourishment it needs for a vibrant, voluminous appearance. It contains powerful ingredients that work together to add shine, luster, and strength to your hair. The conditioner helps detangle and moisturize the hair, leaving it silky-smooth and manageable. By replenishing moisture and strengthening the hair strands, the conditioner reduces breakage and improves the overall health and appearance of your hair. The conditioner is paraben, silicone, and sulfate free. Using a paraben-free conditioner can provide several benefits for your hair and overall health. Here are the key advantages of using SureThik conditioner:
Maintains Natural Moisture Balance: The conditioner focuses on nourishing and hydrating the hair without disrupting its natural moisture balance. It helps retain moisture, prevent dryness, and leaves your hair feeling soft, smooth, and manageable.
Supports Overall Hair Health: SureThik contains natural and nourishing ingredients that promote overall hair health. It includes caffeine and creatine, along with jojoba oil, vitamins, and antioxidants that help strengthen the hair, prevent breakage, and improve its texture and appearance.
For those who are familiar with SureThik's hair fibers or wish to stock up, the Value Package is an excellent choice during the Canada Day sale. Offering great value with the added discount, it allows you to save while ensuring a steady supply of your favorite SureThik products. This package is especially beneficial for long-term use as it ensures that you won't run out of SureThik Hair Fibers anytime soon. Thinning hair can be an ongoing concern, and having an ample supply of hair fibers allows you to address thinning areas whenever you need to, without worrying about running out of product.
The Value Pack Includes:
(3) 30g Bottles of SureThik Hair Fibers
The SureThik Value Package includes three bottles of SureThik Hair Fibers, each containing 30 grams of the product. With a wide range of shades available, you can select a shade that is a perfect color match for your hair. Whether you're a brunette, blonde, or redhead, or have unique hair tones, the SureThik Value Package allows you to achieve a seamless and natural-looking result.
To complement the Hair Fibers and ensure their long-lasting hold, the SureThik Value Package includes a Fiber Holding Spray. This specially formulated spray not only helps lock in the fibers but also adds a beautiful shine to your hair.
The Value Package is an excellent option for those who have been using SureThik Hair Fibers and are familiar with the remarkable results they deliver. By taking advantage of the discounted price, you can stock up on your preferred shade and have a consistent supply of SureThik Hair Fibers at hand, ensuring that you can maintain your desired look effortlessly. Moreover, the Value Package is a thoughtful gift idea for friends and family members who may also be dealing with thinning hair or seeking to enhance the volume of their locks. By gifting them the package, you not only provide them with a solution to their hair concerns but also show that you care about their well-being and confidence. It's a practical and considerate gift that can make a significant impact on their self-esteem.
The SureThik MEGA Value Package goes beyond just offering excellent value, it provides the convenience of a one-time purchase for a year's supply of hair fibers and holding spray. This means you can avoid the hassle of repeatedly ordering products and worrying about running out. By investing in the MEGA Value Package, you can enjoy a full year of confidence and a consistently enhanced appearance without any interruption. The combination of the SureThik Hair Fibers and the Fiber Holding Spray in the MEGA Value Package makes it an exceptional deal. The Package Includes:
(12) Bottles of 30g Hair Fibers
You receive a generous supply of 12 bottles of hair fibers in the color of your choice. This ensures that you have amble fibers to achieve and maintain the appearance of thicker, fuller hair for an entire year.
To ensure the long-lasting hold of the Hair Fibers, the SureThik MEGA Value Package includes four bottles of Fiber Holding Spray.
This Canada Day, celebrate with SureThik's exceptional sale and discover the transformative power of their hair care solutions. The sale offers an incredible opportunity to save on our high-quality hair care products. By making a purchase of $60 or more, you can enjoy a $10 discount, making it the perfect time to invest in SureThik's innovative solutions for thicker-looking hair. Whether you choose the SureThik Hair Fiber Starter Kit, the Shampoo and Conditioner, or the Value Packages, each option brings its unique benefits and contributes to your journey toward fuller, more voluminous hair.
Don't miss out on this opportunity to embrace your best hair days with SureThik's Hair Fibers and enjoy the benefits of thicker-looking hair. Make your purchase during the Canada Day sale by July 3rd and take the first step towards a more confident and vibrant you.