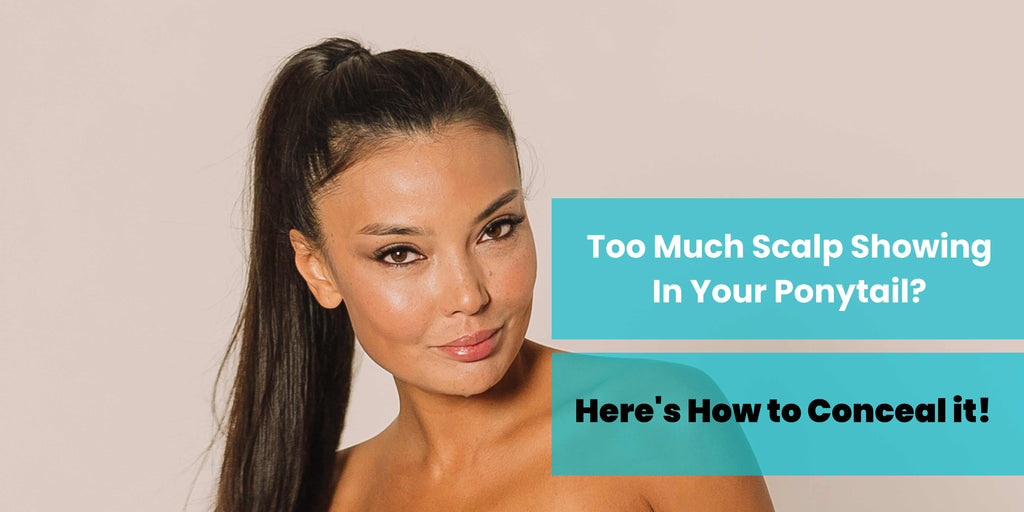 Too Much Scalp Showing in Your Ponytail? Here's How to Conceal and Create Stunning Ponytails with Ease!
A sleek and sophisticated ponytail is a timeless hairstyle that exudes elegance and simplicity. However, for some individuals, creating a ponytail can be disheartening, as it may reveal a scalp with thinning hair or areas of sparse coverage. But fear not, achieving a voluminous ponytail is entirely possible with the right techniques and tricks. In this blog, we'll explore various tips and methods to help you get that perfect ponytail without your hair looking thin. Let's dive in!
Understanding the Scalp-Showing Dilemma
Before delving into solutions, it's essential to understand why some individuals experience scalp visibility in their ponytails. Factors such as genetics, age, hormonal changes, and certain medical conditions can contribute to hair thinning or loss. Additionally, over-styling, excessive heat and harsh hair products can damage the hair and exacerbate the issue.
STEP 1: PREPPING YOUR HAIR
To achieve a fuller-looking ponytail, it's crucial to start with well-prepared hair. Here are some day-to-day steps to follow:
Healthy Hair Care Routine:

 

Adopt a gentle hair care routine that involves using sulfate-free, paraben-free, and silicone-free products to promote hair health. Using sulfate shampoos can cause hair frizz, which can make your hair look messy in a ponytail. For a good hair care routine, here are some products to invest in:
1. Volumizing Shampoos and Conditioners: Look for volumizing products that add body to your hair without weighing it down. Here are our recommendations: 

SureThik Thickening Shampoo
:

 
SureThik Thickening Shampoo is expertly formulated with cutting-edge technology and carefully selected ingredients to enhance your hair's appearance and vitality. Its advanced thickening formula coats each strand, giving the illusion of fuller and denser hair right from the roots. Its Key Benefits are:
Amplified Volume: The shampoo's unique formulation boosts volume and body, leaving your hair looking visibly thicker and more voluminous.
Strength and Resilience: Fortified with essential nutrients like Caffeine, Aloe Vera, and Hydrolyzed Keratin, SureThik Thickening Shampoo strengthens the hair, reducing breakage and promoting overall hair health.
Sulfate-Free Formula: Free from sulfates, parabens, and harsh chemicals, SureThik Thickening Shampoo ensures a gentle yet effective cleansing experience with a neutral pH of 5.5.
Revitalizing Experience: With every wash, SureThik Thickening Shampoo invigorates and rejuvenates your hair, leaving it feeling refreshed and revived.
Surethik Thickening Conditioner:
 SureThik Thickening Conditioner nourishes your hair with the goodness of natural ingredients. This helps in nourishing and fortifying your hair from root to tip, resulting in visibly thicker and more voluminous locks. Its Key Benefits are:
Enhanced Manageability: Tame unruly hair and improve hair texture, making it more manageable and easier to style.
Soft and Shine: Infused with essential nutrients, this conditioner strengthens the hair shaft, reducing breakage, and adding shine to the hair, while making it soft and lustrous.
Natural Goodness: Crafted with natural extracts like Jojoba Oil, Caffeine, and Creatine, SureThik Thickening Conditioner is gentle on your hair and scalp, suitable for all hair types.
Sulfate, Paraben, and Silicone-Free: Free from harsh chemicals, this conditioner ensures a gentle and nourishing experience.
2. Microfiber Towel: Use a microfiber towel to dry your hair. Using a microfiber towel for hair wash offers several benefits that promote healthier, more manageable hair. Microfiber towels are incredibly soft and smooth, reducing friction when drying hair. This gentle drying method helps minimize breakage, split ends, and frizz, making it ideal for delicate or damaged hair.
3. Avoid Too Much Heat and Avoid Over Brushing: Brush your hair gently to avoid breakage, especially when it's wet. Make sure to use a heat protectant if you plan on using a blow dryer for drying your hair. Spend time to remove any tangles or knots.
4. Anti-Frizz Hair Serum: If you prefer a sleek look, apply a small amount of smoothing serum or hair gel to tame any flyaways as a last prepping step. This will help detangle wet hair while maintaining the shine and reducing the frizz. Here's our recommendation:
STEP 2: ADDING VOLUME
Now that your hair is well-prepped, let's explore techniques to add volume to your ponytail:
Teasing or Backcombing:

 

Gently tease the hair at the crown area to create volume. Remember to be gentle to prevent excessive damage.
Use a Volumizing Serum:

 

Volumizing serums are designed to lift the hair from the scalp, creating a natural-looking texture and body. This effect is especially useful for those with flat or fine hair, as it gives the hair a lift and bounce. Here's our recommendation:
Amika Hair Thickening Treatment
STEP 3: THE PERFECT PONYTAIL
Now that you've added volume to your hair, it's time to create the perfect ponytail:
Tying your Hair: Decide where you want your ponytail to sit on your head. You can opt for a high ponytail, mid-level, or low ponytail, depending on your preference and the occasion. Avoid pulling it too tight, as it may cause tension and damage to the hair. Using your fingers or a brush, gather all your hair into one hand at the desired placement and tie it with your preferred hair tie. Once your ponytail is secured, use your hands to adjust and shape it to your liking. You can make it sleek and tight or loose and casual, depending on your preferred style.
Concealing the Sides with

 
SureThik Hair Fibers:
To add thickness to the blaring scalp or the showing sides, use SureThik Hair Fibers to make the hair look fuller, thicker, and healthier.Using
SureThik Hair Fibers
to fill in thinning sides and achieve a thicker ponytail is quick and easy:
Start with Clean and Dry Hair
Select the Shade:

 

SureThik comes in 8 colors to choose from. Choose the SureThik Hair Fibers shade that matches your hair root color.
Attach the Applicator and Apply the Fibers:

 

Use can either shake or spray the fibers. Since the sides need to be filled precisely, we recommend using the Gravity-Fed Applicator. The gravity-fed applicator is a game-changer when it comes to precise coverage. This innovative tool allows you to control the amount and direction of the fibers, ensuring targeted application precisely where you need it most - the thinning sides of your ponytail. This means you get maximum coverage with minimum wastage.To Spray:

 Rotate the applicator upside down at 90 degrees and hold it approximately 3-5 inches above the thinning sides of your ponytail. Gently squeeze the applicator to release the fibers directly onto the targeted area.

Pat and Blend:

 

Gently pat the fibers into place using your fingers or a soft brush to blend them naturally with your hair. The fibers will securely intertwine with your existing hair, providing a seamless look.
Final Touches: To set the hairstyle in place and for the fibers to stay in longer, use SureThik Fiber Holding Spray as a last step. This spray acts as a protective shield, ensuring the fibers stay in place all day long. It also adds shine to the hair, making them appear thicker.
STEP 4: STYLING OPTIONS
Now that you know how to achieve a thicker-looking ponytail, you can follow the same process to achieve different styles of ponytails. Here are some popular ones you can try:
Messy Ponytail: Embrace a loose, messy ponytail, pulling some face-framing strands to add softness and dimension.
Braided Ponytail: Create a braid or two and incorporate them into your ponytail for added texture and volume.
Bubble Ponytail: Section your ponytail with hair ties to create a bubble effect, adding the illusion of thickness.
Half-Up, Half-Down Ponytail: Secure the upper half of your hair in a ponytail and leave the rest down for a stylish yet voluminous look.
There you have it - a comprehensive guide on how to achieve the perfect ponytail without worrying about scalp visibility. By following these tips and incorporating the right hair care routine, you can rock a full and fabulous ponytail with confidence. Remember, a little creativity and some volumizing magic with SureThik Hair Fibers can work wonders in concealing scalp-showing and embracing your hair's full potential. So go ahead, experiment with different styles, and flaunt your voluminous ponytail with pride!