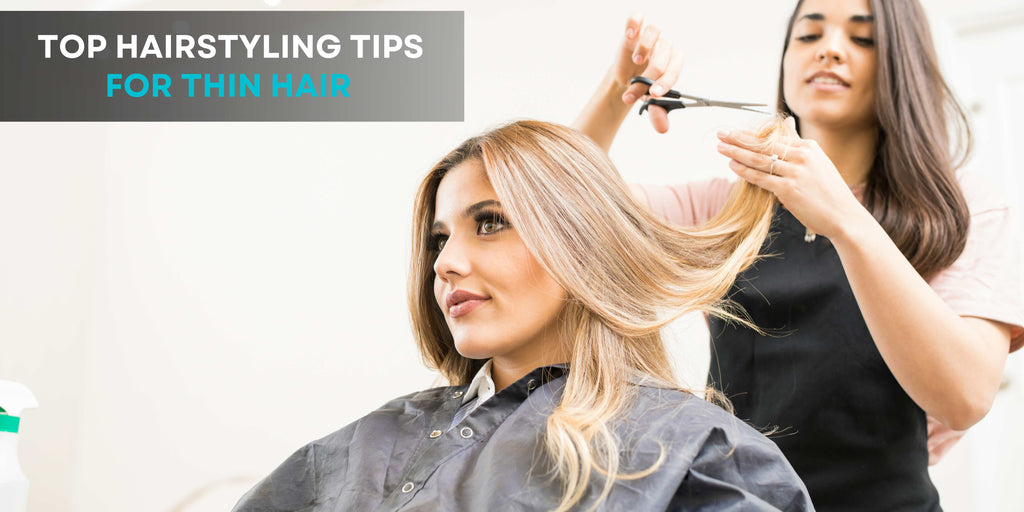 Top Hairstyling Tips for Thinning Hair
Thinning hair is a common issue that affects millions of people around the world. It can be a source of frustration and insecurity for many, but the good news is that there are various hairstyling techniques and products available to help you achieve the appearance of thicker, fuller hair. In this comprehensive blog, we will explore the top hairstyling tips for thinning hair and how you can boost your confidence with the help of SURETHIK Hair Fibers. Let's explore some effective hairstyling tips to help you achieve the look of thicker, more voluminous locks.  
1. Choose the Right Haircut
The foundation of any great hairstyle is the haircut itself. When you have thinning hair, selecting the right haircut is crucial. Here are some haircut ideas that work well for thinning hair: 
Short and Sassy- Short haircuts, like pixie cuts or bobs, can work wonders for thinning hair. These styles create the illusion of thickness by eliminating weight and adding volume.

 
Layered Styles- Layering your hair adds depth and movement, making it appear fuller. Ask your hairstylist for strategically placed layers that suit your face shape and hair type.

 

Blunt Cut- A blunt cut can create the illusion of denser hair, especially if your hair is straight. This clean, one-length look can give the appearance of thickness.

 
Remember, your hairstylist is your best ally when choosing the right haircut for your thinning hair. They can assess your hair type, face shape, and preferences to recommend a style that suits you best.  
2. Embrace Layers
As mentioned earlier, layered hairstyles can be a game-changer for thinning hair. Layers add texture, dimension, and movement to your hair. When done correctly, layers can create the illusion of a fuller mane. 
Types of Layers: 
Face-Framing Layers: These shorter layers frame your face and draw attention away from thinning areas.

 

Long Layers: Longer layers add volume and body to your hair, especially if you have wavy or curly hair.

 

Textured Layers: Textured layers create a lived-in, effortlessly chic look and can be a fantastic option for thinning hair.

 
Discuss these options with your stylist to find the perfect layering technique for your hair. 
3. Avoid Heavy Products
While hair products are essential for styling, some products can weigh down your hair, making it look even thinner. To maintain a voluminous appearance, opt for lightweight, volumizing products: 
Volumizing Mousse:

 Apply a volumizing mousse to your roots before blow-drying. It provides lift and long-lasting volume.

 

Root-Lifting Spray:

 Use a root-lifting spray to add extra height at the crown. Lift your hair and spray it at the roots before styling.

 

Texture Spray:

 A texture spray can add grip and fullness to your hair, making it easier to style.

 
Dry Shampoo:

 Dry shampoo is a lifesaver for extending the time between washes and giving your hair a boost in volume.

 
4. Tease the Right Way
Teasing or backcombing your hair can instantly add volume, but it's crucial to do it correctly to prevent damage. Here's how to tease your hair the right way: 
Start at the Roots: Begin teasing at the roots, as this is where you want the most lift. Take small sections of hair and gently backcomb toward the scalp.

 

Smooth the Top Layer: After teasing, smooth the top layer of hair over the teased section to create a polished look while retaining the volume underneath.

 
Remember that teasing should be done sparingly to avoid hair damage. Use this technique when needed to achieve a voluminous look.  
5. Blow-Dry for Volume
Blow-drying is an essential step in achieving voluminous hair. Blow-drying your hair using the correct way can significantly improve its volume and make it appear thicker and fuller. Here's how to do it right: 
Flip Your Hair Upside Down: Start by flipping your hair upside down while blow-drying. This simple technique allows your hair to dry with added volume at the roots.

 

Use a Round Brush: Invest in a round brush to lift your hair at the roots as you blow-dry. Roll the brush away from your scalp to create lift and body.

 
Cool Air Setting: Finish your blow-drying session with a blast of cool air. This helps set your style and adds extra volume.

 
Use an Alcohol-Free Holding Spray: SURETHIK's Alcohol-Free Holding Spray

 is an excellent addition to your hairstyling routine when used in combination with a blow dryer. Unlike many conventional hair sprays that contain alcohol, which can dry out your hair and make it brittle, SURETHIK's formula is gentle and nourishing. It is suitable for all hair types, including fine and thinning hair. This holding spray is formulated with essential vitamins and botanical extracts that not only hold your style in place but also promote the health of your hair. It offers the perfect balance of hold and flexibility, allowing you to achieve your desired style while maintaining the natural look and feel of your hair. Here are the steps to do it the right way:

 
Step 1: Hold the Alcohol-Free Holding Spray about 6-8 inches away from your head and lightly mist it over the section of hair you're styling. Be sure to apply the spray evenly to ensure consistent hold and volume. 

 

Step 2: With the holding spray applied, start blow-drying your hair. To add volume, use a round brush or a vented brush with a large barrel. 

 
 Step 3: As you blow-dry each section, focus on lifting the hair at the roots. Place the brush at the roots and direct the air from the blow dryer toward the roots.

 

Step 4: Lift the hair gently to create volume. Continue to work through your hair section by section, ensuring that each section is thoroughly dried and styled before moving on to the next. 

 

Step 5: Finish each section with a blast of cool air from the blow dryer. This helps set the style and add extra volume.

 
6.Use Hair Fibers
SURETHIK's hair-thickening fibers are a game-changer for instantly enhancing the appearance of hair thickness. These microscopic natural keratin fibers adhere to your existing hair strands, creating the illusion of fuller hair. The fibers have a static charge that enables them to cling to existing hair strands, creating a bond that is both secure and undetectable to the naked eye. This bond ensures that the fibers remain in place, even in windy, rainy, or humid conditions, until you decide to wash them out.  
SURETHIK Hair Fibers are available in 8 colors to match your natural hair shade, allowing for a seamless and natural look. Whether you have light or dark hair, you can find the perfect shade to blend with your existing hair color. The fibers work well on concealing hair thinning on sides, temples, hairlines, and any bald spots.  
The application of SureThik Hair Fibers is straightforward and can be done in just a few simple steps: 
Step 1: Prepare Your Hair

 
Start with clean, dry hair. The hair should be completely dry before using the fibers. 
Style your hair as usual. Comb, brush, or use your fingers to shape your hair into your desired style.  
Step 3: Apply SureThik Hair Fibers

 
Hold the SureThik Hair Fibers container about 3-6 inches above your head and gently shake it to disperse the fibers evenly. This salt and pepper shaker in the bottle ensures that the fibers disperse seamlessly with your existing hair.  
To get a more precise coverage, consider using the Optional Patented Gravity-Fed Applicator. For using the optional spray applicator, choose the desired nozzle and direct the application nozzle toward the areas where your hair is thinning or where you want to create the illusion of fuller hair. Gently press the rubber pump to release the fibers into these areas. You'll be amazed at how quickly and effortlessly the fibers adhere to your hair. 
Step 4: Lock in Your Look

 
To ensure the fibers stay in place throughout the day, consider using SURETHIK Holding Spray which has a light-medium hold. This will help set your style and provide additional security for the fibers. 
7. Parting Wisely
Changing your part is a simple yet effective way to create the illusion of thicker hair. Experiment with different parting options to see what works best for you: 
Side Part: A side part can add volume and cover thinning areas, especially if your hair naturally falls to one side.

 

Zigzag Part: A zigzag part creates an interesting and less defined parting, making it harder to notice thinning areas.

 

Slightly Messy Part: A slightly uneven or messy part can add texture and volume to your hair.

 
Changing your part is a quick and easy way to refresh your look and make your hair appear thicker.  
8. Opt for Soft Waves or Curls
Soft waves or curls can add texture, body, and the illusion of fullness to your hair. Here's how to achieve this look: 
Curling Iron or Wand: Use a curling iron or wand to create loose curls. For a more natural look, vary the direction in which you curl each section of hair.

 

Hairspray: Finish with a light-hold hairspray like the SURETHIK Holding Spray to set your curls and add longevity to your style.

 

Soft waves and curls can make your hair appear thicker and more voluminous, especially if you have fine or straight hair. This style works well for both casual and formal occasions.

 
9. Invest in the right tools
Thinning hair is often more fragile, so it's crucial to handle it gently to avoid further damage. Here are some tips for gentle hair care: 
Use a Wide-Toothed Comb: Instead of aggressively brushing your hair, use a wide-toothed comb to detangle and style it. This reduces the risk of hair breakage.

 

Avoid Tight Hairstyles: Tight hairstyles like ponytails and braids can put stress on your hair and lead to breakage. Opt for looser styles to minimize damage.

 
Be Mindful of Heat Styling: Limit the use of heat styling tools and always apply a heat protectant before using them. Excessive heat can weaken hair and make it more susceptible to damage.

 

Protect Your Hair at Night: Use a silk or satin pillowcase to reduce friction and prevent hair breakage while you sleep. You can also tie your hair in a loose, low ponytail or braid to minimize tangling.

 
Remember that confidence comes from within, but these hairstyling tips can help you look and feel your best. Experiment with different styles and find what works for you. With the right techniques and products like SURETHIK Hair Fibers, you can achieve the appearance of thicker, more luxurious locks and face the world with confidence.