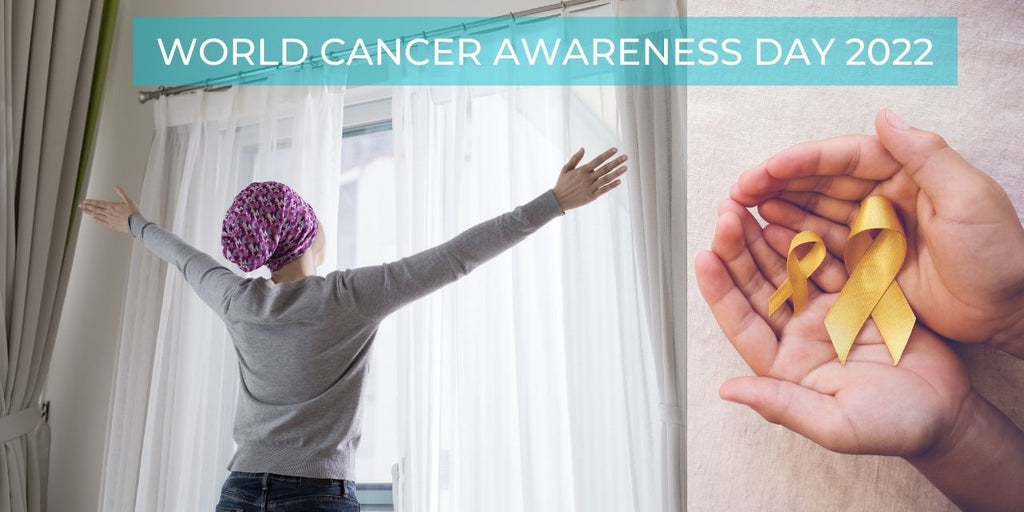 World Cancer Day: Hair loss and Resources
Hair grows in a continuous cycle, with old hairs falling out and being replaced by new ones. Part cancer therapies cause patients to lose some or all of their hair, which usually falls out in clumps during washing or combing. It's natural for both men and women to be unhappy when they lose their hair. It's comforting to know that hair comes back and that you may take actions to make hair loss less of an issue for you.
World Cancer Day, observed on February 4th each year, is a global unifying campaign coordinated by the Union for International Cancer Control (UICC). We are all working together to reimagine a world where millions of preventable cancer deaths are avoided and access to life-saving cancer treatment and care is equitable for all - regardless of who you are or where you live - by raising global awareness, improving education, and catalyzing personal, collective, and government action.
WHAT FACTORS CONTRIBUTE TO HAIR LOSS IN CANCER PATIENTS? 
Chemotherapy is used to target cancer cells that proliferate quickly. However, certain healthy cells in the body divide fast, such as those lining the mouth and stomach, as well as those in hair follicles. Alopecia can occur when cancer therapies, particularly some chemotherapy medications, harm the healthy, fast-growing cells responsible for hair development. Radiation therapy may also induce hair loss in the treated area of the body.

Although hair loss does not always occur immediately, it often occurs within two weeks of beginning chemotherapy treatment and increases over the next two months. Hair loss in the radiation-treated region normally develops up to three weeks after the first treatment. Hair loss may occur during therapy and for several weeks afterwards.
Hair loss can occur on the head and/or other parts of the body, including the face (eyelashes and brows), arms, underarms, and legs.
WHO SUFFERS FROM HAIR LOSS?
Not everyone loses their hair while undergoing cancer treatment. In fact, two people using the same medicine may suffer various adverse effects related to hair loss. One patient may have hair loss while another does not. If alopecia develops, the degree of hair loss varies greatly depending on the kind, dose, frequency, and mode of therapy, as well as other individual characteristics.
Chemotherapy medications damage hair follicles, causing hair to fall out. Even when the same medications are used, it might be difficult to anticipate which individuals would lose their hair and which will not. Some medications can cause hair thinning or loss solely on the scalp. Others can also cause pubic hair thinning or loss, as well as arm and leg hair, brows, and eyelashes.

Hair loss on the scalp is a common side effect of head radiation therapy. Depending on the dosage of radiation applied to the head, hair may not regrow in the same manner as before.
HOW TO HANDLE HAIR LOSS CAUSED BY CANCER
Some forms of chemotherapy cause hair loss on your head and other places of your body. Radiation therapy can also induce hair loss on the treated area of the body. Alopecia is the medical term for hair loss. Consult your medical team to find out if the cancer therapy you'll be undergoing causes hair loss. Your doctor or nurse will discuss techniques that have worked for others, such as those described below.
Your scalp should be protected and cared for. When you're outside, apply sunscreen and wear a hat. Choose a scarf or hat that you like and that keeps your head warm. Lotions and conditioners can help relieve itching and tenderness on your scalp.
Allow yourself some time. It may be tough to accept that you are losing your hair. It may take some time to acclimate to your new appearance, and even more time to feel good about yourself again. It's normal to be unhappy. At the same time, keep in mind that hair loss is typically transitory and that hair will regrow once you finish therapy.
Create a support system. Discuss the difficulties of hair loss with your friends and family. A cancer support group is also a fantastic place to meet other individuals who are experiencing hair loss. You can acquire suggestions and guidance on how others dealt with changes in their looks in this environment. Meeting with a psychologist or counselor may also be beneficial.
If your hair thins but does not fall out entirely throughout treatment, consider Hair Building Fibers to fill in any sparse places. Hair Building Fibers can be sprinkled directly on the hair from the bottle or used with the Spray Applicator. Finish with Holding Spray for long-lasting gloss and durability.
SUPPORT AND RESOURCES: 
For additional information on how to care for your look while undergoing chemotherapy, go to: Canadian Cancer Society. A non-profit organization that assists cancer survivors in managing the physical appearance-related side effects of cancer treatment.