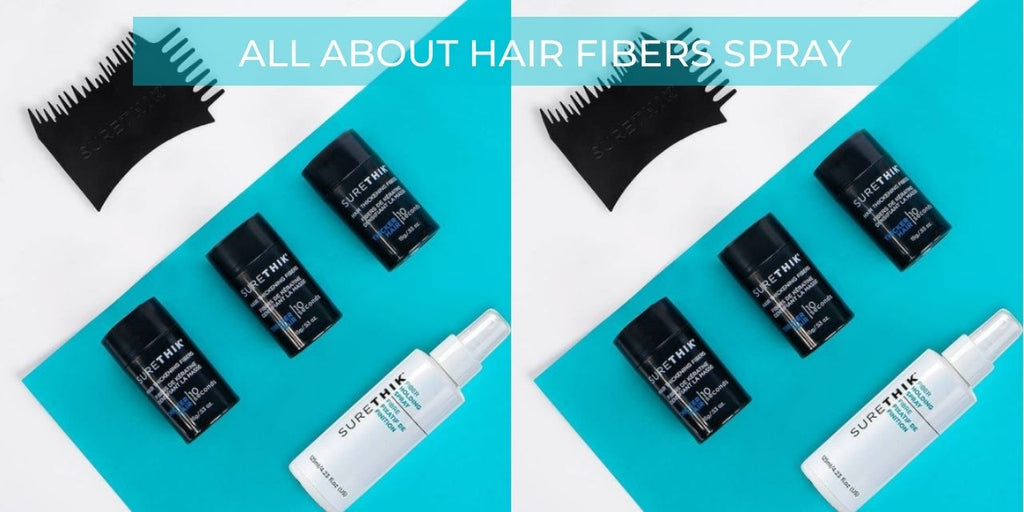 All About Hair Fibers Spray
Hair fibers are one of the most promising treatments for some forms of hair loss available today. While surgery has been the treatment of choice for patients who have suffered from considerable hair loss, it is not necessarily the best option for other forms of baldness. For example, in the early phases of baldness, there is typically the possibility of naturally reversing or even stopping hair loss. Furthermore, with scattered thinning, surgery may not be possible unless the hair loss advances.

Fortunately, hair-building fibers are a natural solution that can help those who are balding, particularly those who have diffuse thinning or early-stage hair loss. 
Are Hair-Building Fibers Effective for Hair Regrowth?
The purpose of hair fibers is not to restore hair. They can, however, aid in the growth of stronger, healthier hair. All-natural, organic elements in hair fiber products help support a healthy scalp. Good hair fiber products will not contain any hazardous chemicals or additives that lead to baldness; instead, they will employ components that promote hair growth. Nonetheless, hair fibers are generally employed to enhance the look of your hair. They are a wonderful alternative for both men and women who have begun to notice hair loss or diffuse thinning since they are so successful at masking balding.
Essential Hair Building Fibers Products: 
SureThik Hair Thickening Fibers and SureThik Holding Spray are two of our most popular products. SureThik Hair Thickening Fibers come in two sizes, and there is a monthly subscription option to make monthly purchases easier. 
Hair fillers are made of keratin-derived fibers that mix in with your natural hair to provide the illusion of fuller-looking hair. The thickening fibers are an all-natural remedy for both men's and women's hair thinning. The organic keratin protein fibers, which are tiny in size, work together to provide entire covering and a full volume look. The thickening fibers are the ideal choice for you since they are completely safe and resistant to rain, wind, and perspiration.
If you've chosen a high-quality fiber, you've just addressed this issue; nevertheless, how do you acquire that extra grip when you want or need it?
Fibers should be applied to dry, styled hair to seal in the fibers while leaving the styling intact. We recommend patting the fibers down with your palm to set and secure them in place.
However, if you want to be extra safe, use a pump or two of SureThik Alcohol-free Fiber Holding Spray after you've finished putting your fibers, which will give you that extra grip and also provide a natural shine to the hair! This product also aids in the locking of your style; it is non-sticky, alcohol-free (so no hair damage), and will keep your fibers in place no matter what activity you engage in.
The combination of high-performance hair fibers and the extra strength of the holding spray will ensure that your fibers stay exactly where you apply them, mess-free, and last through any activity, including those where you're guaranteed to be exposed to sweat, water, heat, snow, rain, strong winds, and so on.
Fibers have no negative effects and do not interfere with other hair growth therapies in any manner. They may even be used by persons who have had hair transplants! This also applies to the SureThik Holding Spray, so you can relax and know that your thicker hair will not fall out.
When you're ready to remove the hair fibre powder, just wash your hair with Surethik's Root Penetrating Shampoo & Conditioner. This is a sulfate-free, deep cleansing, strengthening product made exclusively for men and women. Our Root Penetrating Shampoos clean and rejuvenate the scalp by penetrating deep into the follicle without the use of toxic sulfates. Colored and chemically treated hair is not affected. Conditioner is paraben-free, revitalizing, and hydrating: Our Boost Conditioner contains minerals and botanicals that support healthy hair and scalp in both men and women. Antioxidants aid to moisturize, strengthen, and revitalize thin or damaged hair. This mild conditioner helps to change fine and thin hair.
SureThik Shampoo cleans deeply into the pores to eliminate build-up, which is necessary for healthy hair and scalp regeneration. Our tri-cleansing chemicals unclog pores and provide thorough cleaning by eliminating excess sebum and debris that might harm the follicle. As a consequence, following treatment, the hair is smooth and manageable. Furthermore, antioxidants assist to strengthen weak or damaged hair from the roots up. The hair and scalp are left feeling clean and revitalized. After each wash, the scalp will be free of toxins, germs, sebum, and debris.
With premium, nutrient-rich ingredients, this lightweight product hydrates, nourishes, and strengthens your hair. Aloe, Argan, Moringa, Jojoba, and Sweet Almond oils, as well as Panthenol, Zinc, Nettle, and a variety of natural extracts, help to strengthen, add volume, and shine to hair, and make it feel smooth and luscious without weighing it down.