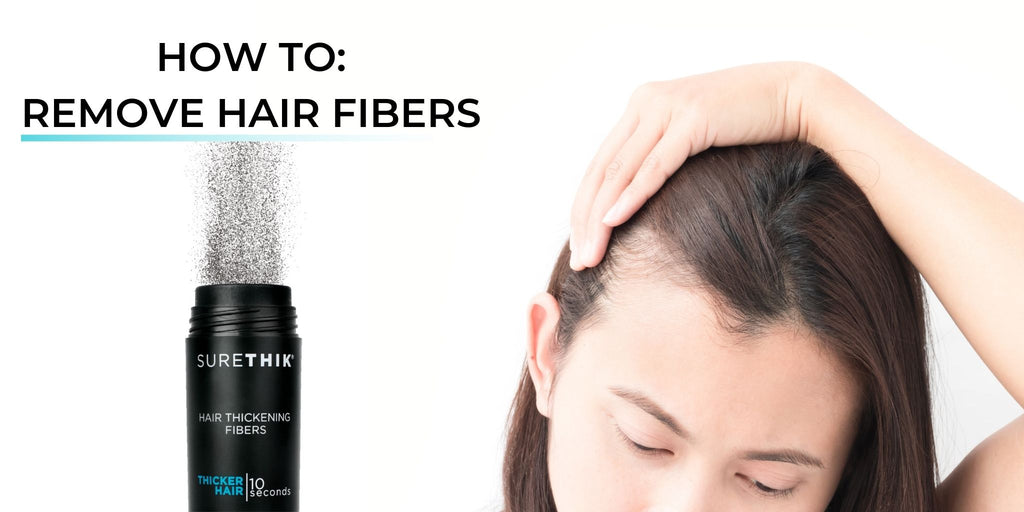 How to remove hair fibers?
Have you tried a hair concealer powder before? Hair fibers could be the answer if you're looking for a natural way to hide bald areas. SureThik Inc. will help conceal instantly alter fine or thinning hair by giving it the look of being thicker. Hair Building Fibers from SureThik Inc. are a fantastic way to rapidly supply the illusion of thicker, fuller hair. While the effects aren't permanent, they do endure a long time. But, first, let's go over common and often asked questions about hair fibers! 
How Long Does a Bottle of SureThik Last? 
Select a bottle size that meets your requirements: How long your bottle will last depend on how many visible indications of hair loss or thinning you wish to conceal. For example, a 15g bottle will usually last 30-40 days, and a 30g bottle will last 60-80 days. However, this can vary depending on how much hair loss you have and if used daily. For more detail on how long SureThik bottle last be sure to check out our blog How Long do Hair Fibers Last.
Will SureThik Hair Fibers Run, Stain or Smear? 
SureThik fibers are water resistant. In the rain, they won't run, stain, or smear, and they'll wash out with nearly any shampoo. When you jump into a pool, some fibers may escape, but they will not run or smear; instead, they will just disappear.
SureThik fibers are water-resistant and will not run, stain, or smear when wet.
SureThik fibers will not stain or run like other products and can be washed away with shampoo.
Sweat-resistant high-performance fibers are suitable for active individuals.
Micro-sized fibers that are precisely cut and distributed evenly with no clumping
Keratin Fibers that are 100 percent natural fit in effortlessly.
It has a more natural feel and appearance than synthetics.
fibers made of keratin or cotton
 "I've tried other brands and they tend to clump together and look patchy over time, which looks horrible. This brand doesn't do that. It looks very natural. It's skyrocketed my self-esteem. Thank you for this product."
-Irene A.

How About Fibers Overnight? 
This is a common question that any fibers users may have, we often do not wash our hair daily, and after a long day, we question if the fibers will be safe for a nice rest, and then we can question with the product sitting on my hair for long hours. You may ask yourself, "can it rub off on pillows or bed-sheets."
The technology behind our fibers can guarantee SureThik users no issues of fiber fallout. SureThik has a high-performance formula that will assure an exclusive long-lasting formula that is sweat, wind and rain resistant until you wash them off.
How Do You Remove Hair Fibers? 
What we all have been waiting for! the number one asked question we get is, "How do I remove the fibers of my hair?" The answer to the question is simple and easy!
SureThik uses simple technology called electro-static charged fibers that allows for fibers to sit naturally on the hair without fallout, will now break down what the "term" means: 
Electrostatically charged fibers easily adhere to the hair.
No harsh chemicals are used in the SureStay solution, and fibers stick naturally.
For a more realistic look, it attaches to individual hair strands and the scalp.
However, when you're ready to get rid of the hair fiber powder, simply wash your hair with a light thickening shampoo with SureThik' s Root Penetrating Shampoo & Conditioner. This is a sulfate-Free, Deep Cleansing, strengthening: Unique formula specifically designed for Men and Women. Our Root Penetrating Shampoos penetrate deep into the follicle without the use of harmful sulfates for a clean and refreshed feeling scalp. Safe for colored and chemically treated hair.
Conditioner is a Free of parabens, revitalized, and hydrated: Our Boost Conditioner is loaded with nutrients and botanicals that promote healthy hair and scalp for both men and women. Antioxidants help to hydrate, strengthen, and revive hair that is weak or damaged. This light conditioner aids in the transformation of fine and thin hair into thicker, more manageable strands.
SureThik Shampoo:
Shampoo cleanses deep into the pore to cut build-up, which is necessary for healthy hair and scalp regeneration. Our tri-cleansing chemicals unclog pores and supply thorough cleaning by cutting excess sebum and debris that might harm the follicle. Therefore, following treatment, the hair is smooth and manageable. Furthermore, antioxidants aid to strengthen weak or damaged hair from the roots up. The hair and scalp are left feeling clean and revitalized. After each wash, the scalp will be free of toxins, germs, sebum, and debris.
SureThik Conditioner:
With premium, nutrient-rich ingredients, this lightweight product hydrates, nourishes, and strengthens your hair. Aloe, Argan, Moringa, Jojoba, and Sweet Almond oils, as well as Panthenol, Zinc, Nettle, and a variety of natural extracts, help to strengthen, add volume, and shine to hair, and make it feel smooth and luscious without weighing it down.
For more information on our products, check us out on: www.surethik.ca