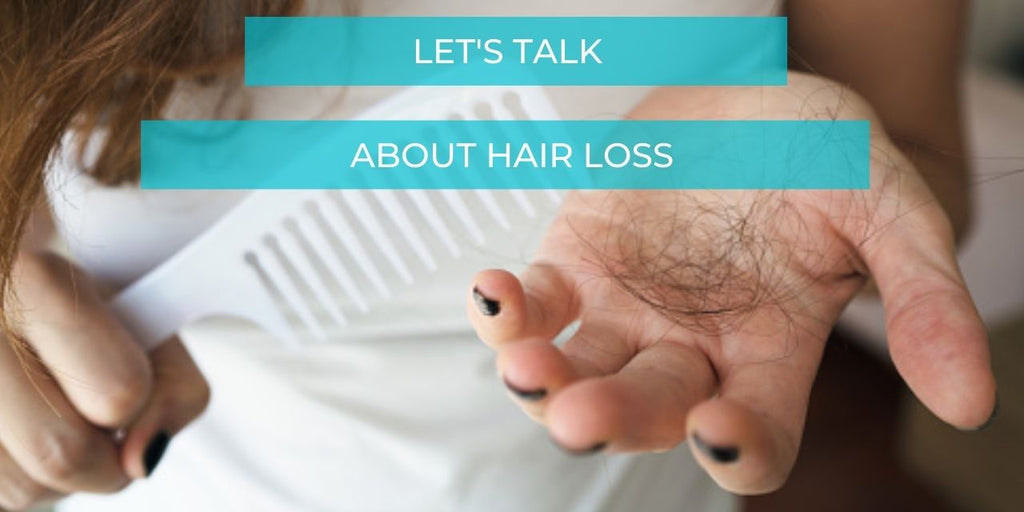 Let's Talk About Hair Loss
Hair loss (alopecia) can be temporary or permanent, and it can affect only your scalp or your entire body. It might be caused by inheritance, hormonal changes, medical disorders, or it can be a typical aspect of aging. Anyone can lose hair on their head, but males are more likely to do so.

Baldness is commonly defined as significant hair loss from the scalp. The most common cause of baldness is hereditary hair loss with age. Some people prefer to let their hair loss progress unabated and unnoticed. Others may conceal it with different haircuts, makeup, hats, or scarves. Others opt for one of the various treatments to prevent additional hair loss or to restore growth.
TYPES OF ALOPECIA: 
According to a study conducted by the Canadian Dermatology Association on hair loss, male pattern baldness affects approximately 50% of men. It can begin as early as adolescence. By the age of 70, four out of every five males will have some degree of baldness. By the age of 50, around 40% of women have some signs of hair thinning. Genetics, as well as some hormonal influence, are thought to be involved.
ALOPECIA AREATA: 
Alopecia Areata is assumed to be an autoimmune disorder that begins with isolated patches of hair loss, most typically in one or more coin-sized (generally round or oval) patches on the scalp and/or across the body, including the beard, eyebrows, eyelashes, or body hair.

Immune system cells that congregate around hair follicles in Alopecia Areata. These cells target the hair follicle, preventing it from creating new hair. The precise mechanism by which this occurs is unknown.
"PATCHY HAIR LOSS" 
Alopecia Areata manifests as round or oval areas of hair growth on the scalp or other parts of the body. This kind of Alopecia Areata can occasionally progress to Alopecia Totalis (hair loss throughout the entire scalp) or Alopecia Universalis (hair loss throughout the entire body), although in most cases it remains patchy and eventually regrowth occurs. Some persons with Alopecia Areata experience patchy hair loss for a long time before developing Alopecia Totalis or Alopecia Universalis: this is known as 'Persistent Patchy Alopecia Areata' or 'Chronic Alopecia Areata.'
WHAT ARE THE POSSIBLE SYMPTOMS? 
The initial sign of Alopecia Areata is usually patchy hair loss. The hair loss spots may enlarge. Patches might become larger and merge together at times. Hair can fall out so quickly in certain people that all of the scalp hair is removed without any patches developing.

Many patients with Alopecia Areata do not feel discomfort or other symptoms. However, hair loss might be accompanied by tingling, itching, burning, headaches, or even skin discomfort in some people.
CENTRAL CENTRIFUGAL CICATRICIAL ALOPECIA (CCCA): 
Central Centrifugal Cicatricial Alopecia (CCCA) is a type of scarring alopecia that begins in the scalp's center. CCCA is most common among African-American women, however it can affect men and women of any ethnicity.
Hair begins to come out in the center of the scalp in CCCA. Hair loss then spreads progressively from that location. People with CCCA frequently feel their hair becoming more brittle and breaking more easily. Other symptoms include scalp itching, soreness, or tenderness, a spongy texture, and flaking or redness in the affected areas.
 WHAT CAUSES CCCA? 
Although the exact cause of CCCA is unknown, it has frequently been linked to hair styling practices such as heat (hot combs/hair straighteners, hair dryers, and curling irons); traction (tight braids/cornrows, weaves, tight ponytails, or hair extensions that pull on the hair); and use of chemical relaxers (especially lye relaxers).

Changes in a gene called PADI3 have recently been linked to the development of the illness in approximately 25% of patients. Several studies have also found a link between type 2 diabetes and hair loss, and maybe with CCCA.
ANDROGENTIC ALOPECIA (PATTERN HAIR LOSS) 
Hairs on the scalp grow in tufts of three to four hairs. The hair tufts on the progressively reduce in Androgenetic Alopecia, reducing the quantity of hairs in each tuft. When all of the hairs in the tuft are gone, the scalp skin emerges between the hairs. Androgenetic Alopecia is sometimes known as "Male Pattern Hair Loss" or "Female Pattern Hair Loss." It is the most prevalent type of hair loss, affecting almost half of males over the age of 50 and roughly half of women over the age of 65. Younger men and women can be affected by androgenetic alopecia.
WHAT CAUSES ANDROGENTIC ALOPECIA? 
Androgenetic alopecia is caused by a combination of genetic and hormonal causes, many of which are unknown. This type of hair loss is associated with androgen hormones, specifically dihydrotestosterone (DHT). Increased levels of androgens, such as DHT, in hair follicles can result in a shorter hair growth cycle and the formation of shorter, thinner strands of hair. Follicles can also remain dormant for extended periods of time.
Because various genetic and environmental factors are likely to be involved, it is impossible to establish if androgenetic alopecia is inherited or not. This disorder, however, appears to run in families, and having a close family with patterned hair loss appears to be a risk factor for getting the condition.
HOW TO MANAGE HAIR LOSS TEMPORARILY:
Hair thinning is a natural part of the aging process. Men, in particular, tend to lose their hair more quickly and visibly than other genders. Hair loss is so common and natural that it is referred to as androgenetic alopecia, or male pattern baldness.

If you wish to cover up thin sections of your hair, we'll show you how below. We'll also discuss how to naturally treat thinning hair, as well as how to improve the appearance of your hair and raise your confidence as it changes through time.
1. Hair Fibers:
Hair Fibers were created as a quick, simple, and dependable hair loss treatment. Each of our products is scientifically created for men and women with thinning hair, thinning section lines, or scalp baldness. SureThik recipe contains a fraction of advanced Hair Fibers Technology. The solution contains strong electrostatic-charged fibers that attach to fine hair and instantly provide the appearance of fuller hair. SureThik has worked hard on our hair building fiber technology to ensure that it does not smudge, smear, or clump like some lesser grade hair fibers.
SureThik takes pride in creating an easy-to-use product. SureThik had the pleasure to collaborate with Lacie Rodriguez, an Androgenic Alopecia Advocate who encourages women facing hair loss to be confident in their hair. Lacie describes her alopecia experience and demonstrates how she uses hair fibers.
"Scalp concealers can be an absolute godsend when your hair starts thinning"
One of my favorites to use is hair fibers because they're inexpensive and once you get the hang of it, super quick and easy. I also love that they attach to your existing hair to add density instead of just covering up your scalp. I use them to thicken up my hairline even when I'm wearing a topper!" 
- Lacie 
2. Root Spray: 
Hair loss appears in a variety of ways. Men are prone to androgenetic hair loss, which begins with a receding hairline and frequently proceeds to baldness. Women's hair, on the other hand, thins evenly throughout the head. Root concealers have a bad connotation because most people associate them with grey, grown-out, or thinning hair. Root concealers, on the other hand, are used to provide the appearance of fuller hair. Root Spray application is quick and easy.
Hair loss and thinning are both natural phenomena. Losing your hair, on the other hand, can be a distressing experience. That's why it's vital to discover out what works best for you to limit the amount of time thinning hair disrupts your life, whether it's a new style, a new look, or simply accepting your new look as part of who you are.
3. Wig or Hair Toppers: 
Hair toppers are a great technique to conceal thinning hair on a woman's scalp. Toppers will quickly cover those areas and mix with a woman's natural hair, increasing volume while also providing increased thickness and density, whether she is balding due to female pattern baldness or has thinning hair.
Hair toppers are remarkable for incorporating one's own hair into the piece. You'll do less harm to your own hair! Because a hair topper is the "top layer" of hair on display, it is the most important to style, but your own hair underneath can also benefit from some TLC. If it's human hair, you can heat style it to your heart's content. They are significantly more comfy than wigs to wear. A wig is typically significantly heavier on the head than a topper, particularly lace toppers, which are so light you may forget you're wearing one.
Hair loss and thinning are both natural phenomena. Losing your hair, on the other hand, can be a distressing experience. That's why it's vital to discover out what works best for you to limit the amount of time thinning hair disrupts your life, whether it's a new style, a new look, or simply accepting your new look as part of who you are.