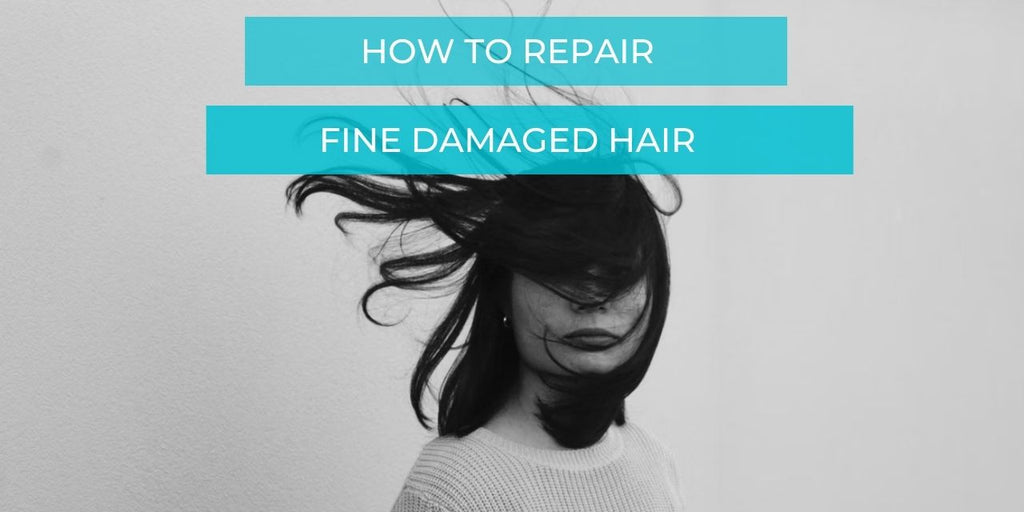 How to Repair Fine Damaged Hair
You can tell whether your hair is damaged when you see it—and feel it. You may have noticeable breakage and split ends, dry hair that is brittle to the touch, a dull and lifeless style, and likely some additional frizz. Before you can start repairing your damaged hair, you must first accept that you have a problem. If you see some of your ends separating or it takes an eternity to dry your hair, it may be mildly damaged.

Don't freak out. It is quite feasible to assist in the healing of some of that hair damage as well as the prevention of future breaking.
 Here's a Step-by-Step Guide on Repairing Damaged Hair:
1: Hair Mask: 
A hair mask is essentially a high-powered conditioner. It functions similarly to a conditioner, but with additional advantages that are intended to be more intensive and nutritious. Hair masks moisturize dry hair and aid in the preservation of color in colored hair. And, as described in our frizz survival guide, the latter is not only synonymous with nicer hair, but it is also required to keep frizz at bay.
What are the benefits of hair mask? 
Hair masks, as previously indicated, produce smooth and lustrous locks. They can cover damage but not completely repair it (split ends can only be repaired with a haircut), but masks can make your hair thicker (by pumping in moisture) and stronger, as well as stop damage in its tracks, preventing additional breaking. Deep conditioning is essential all year, but especially in the winter. Hair masks moisturize dry hair and aid in the preservation of color in colored hair. The main advantage, though, is that they are like a mini-home-spa; they may feel like a completely soothing treatment and make your hair look gorgeous!
How often should I use a hair mask? 
Hair masks can be used once a week, once a month, or as needed. Hair masks come in a variety of forms: some are used in the shower or bath, while others may be worn overnight. However, make sure you don't sleep in a hair mask that isn't intended to be used while sleeping. However, you do not need to use an overnight mask to gain the advantages. Check out hair OUAI hair mask for a truly nourishing treatment for your weary hair.
How to use a hair mask? 
First, shampoo and rinse your hair. Rinse and shampoo one more. It is preferable to shampoo your hair twice a week. First, remove any debris, and then cleanse thoroughly, but don't use too much product. Make careful to thoroughly rinse your hair.

After that, condition as usual. It is just necessary to keep your conditioner on for around two minutes. After that, rinse.

Apply your hair mask and leave it on for three to five minutes to begin working. If you want to reap additional advantages or have really dry hair, you may keep your mask on for up to twenty minutes. As a hint, you may use the additional time to wash your face, scrub your body, shave your legs, apply a face mask, or do whatever you like!
Rinse your hair well to eliminate any extra product. Towel dry your hair (before using a hairdryer) and add a small amount of Abyssinian oil to the ends.

Voila! Your hair should now be looking fantastic!
2. Hair Oils and Natural Oils: 
Whether you want to avoid chemicals or just check out some new hair care products, try natural oils like coconut, argan, jojoba, almond, olive, and grapeseed. These are some of the best oils for hair health, and they can be used on the skin and hair directly. Lavender and lemongrass essential oils, for example, have several properties that help nourish and strengthen hair while also leaving it looking and feeling beautiful.
Coconut Oil: 
Coconut oil, as you might expect, is derived from coconuts. It is one of the most versatile oils available and is also beneficial to the skin. It includes a high concentration of fatty acids, allowing it to enter deeply into the hair without evaporating. Coconut oil is high in carbs, vitamins, and minerals, all of which are necessary for optimal hair health. Coconut oil comes in a variety of forms, including refined, unprocessed, and extra-virgin, and is one of the greatest oils for hair development. 
Almond Oil: 
Almond oil is extracted from the kernels of almonds. Almond oil is not only amazing for cooking, but it is also great for your hair. It includes Vitamin E, fatty acids, proteins, and antioxidants, as well as magnesium, which minimizes breakage and promotes hair growth. People who are deficient in minerals are prone to delayed hair development and hair loss, therefore including almond oil into your diet can also assist with these difficulties. All-natural almond oil is great for cooking and beauty care because it has no additional chemicals.
Ideal: Dry and damaged hair, dandruff-prone hair, and those experiencing delayed hair growth or hair loss.

Benefits: Almond oil hydrates, seals, and protects hair, as well as preventing hair loss and breaking. It helps you develop longer and thicker hair if you use it on a regular basis.

How to utilize it: At room temperature, almond oil is thick. Warm up one spoonful of oil and massage it into your scalp. You may leave it on overnight and then wash it off in the morning. You may also use almond oil after shampooing to restore moisture to your hair and prevent breakage and split ends. Apply a few drops to your palms and massage them through towel-dried hair. Combing it through your hair and letting it to air dry results in lustrous hair.
BondiBoost - Rapid Repair Serum for Damaged Hair: 
BondiBoost Rapid Repair Serum split-end therapy treatment contains a natural base functional active and botanical blend that mends and seals split ends, smooth the cuticle, and revitalizes brittle ends. Hair appears healthier and smoother, and breakage-related hair loss is reduced.
Ideal: Dry and damaged hair, frizz, and split ends 
Benefits: Intensive treatment that visibly repairs split ends by sealing and smoothing the cuticle and reduces hair fall due to breakage.
How to utilize it: Apply one to two pumps to towel-dried or dry hair, focusing on the mid-lengths to ends. 
The hair oil, infused with the sweet aroma of a blossoming prickly pear cactus, is a multi-purpose miracle worker. Use it as a smoothing agent on dry hair, a breakage treatment on damp hair, or an overnight hydration treatment. Then take it a step further and use its desert magic to transform dry patches of skin into moisturized skin.
Ideal: All hair types, dry and damaged. 

Benefits: Sweet Prickly Pear Seed Oil, pressed from the seeds of its namesake cactus, has a sweet, fruity aroma and conditions strands to make them silky, soft, and healthy.
How to utilize it:  Begin with one pump and smooth it through your strands, then repeat as needed.
3. Protect Your Hair From UV Rays: 
Sun protection is essential for both your skin and your hair. Hair sunscreen exists, and it is extremely important to protect your strands. Hair, like skin, can be damaged by UV rays. Wear a hat or apply hair sunscreen if you're going to be out in the sun. It is critical to invest in heat and UV protectant hair products for the best protection against rays and temperature. Here are some great options to choose from! 
SunBum- Scalp & Hair Mist SPF 30:
SPF 30 Scalp & Mist Sunscreen Spray is a light, nourishing mist that protects your scalp from the sun without weighing down your hair. It is suitable for all hair types.
How To Use: To apply, hold the container 4 to 6 inches away from the scalp. 15 minutes before sun exposure, spray liberally onto your part or other areas where your scalp is exposed and spread evenly with your fingertips. Avoid spraying directly on the face. After 80 minutes of swimming or sweating, reapply. Immediately following towel drying. Every 2 hours at the very least.

This nourishing and protective leave-in conditioner softens, seals, detangles, and fights frizz in your hair. To maximize the performance of styling products, use on damp or dry hair, alone or layered beneath them. This mist is rich in vitamin C, Hyaluronic Acid, Radish Root Extract and Coconut Oil. 
How To Use: Work through towel-dried hair and style as usual. Reapply as needed for an extra boost of moisture.