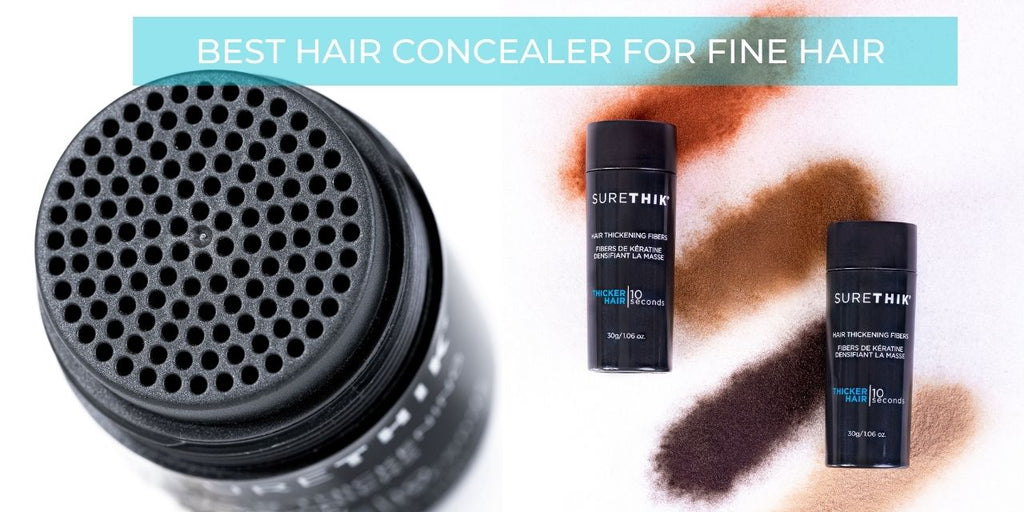 Best Hair Concealer for Fine Hair
There isn't a miracle drug that can give you the hair you've always wanted in an instant. There is a product that will give you the illusion of thicker hair as soon as you apply it if you have fine, thin hair or are experiencing hair loss.
SureThik's product, Hair Building Fibers, is the answer to thinning hair. SureThik Hair Building Fibers, which come in 8 colors and 2 sizes, will offer you the confidence that comes with a full head of hair. Say goodbye to the days of worrying about your receding hairline or debating whether you can afford surgery. SureThik is the solution for everyone concerned about how to obtain (and keep!) thicker, fuller hair on a daily basis.
Continue reading if you've never used SureThik Hair Building Fibers before to learn about the benefits of using SureThik and how Hair Fibers actually bind to your natural hair, as well as some unexpected perks and why it the BEST in the market! 
WHAT ARE THE BEST HAIR FIBERS FOR THINNING HAIR? 
Is the color of the fibers the same as your hair?
If you opt to utilize hair fibers to create the appearance of a full head of hair, make sure they look as natural as possible. All of the concealers for hair loss that we've looked at come in a variety of colors and tones.

Surethik offers 8 colour, all of which appear to be more natural than others. Surethik's team of specialists can also assist you in perfectly matching your colour and will not stop working until you are entirely delighted.
COTTON VS KERATIN:
Some concealers for hair loss are created using real human hair, resulting in the most natural-looking results. However, keratin and cotton make up the majority of hair-building fibers on the market.
KERATIN: 
The majority of keratin is derived from ground-up sheep hooves, horns, and wool. Keratin hair strands attach to hair and are water, wind, and sweat resistant. Keratin-derived fibers are harmless and blend in undetectably with your existing hair to provide the illusion of thicker, fuller hair because keratin is derived from wool.
COTTON:
Gossypium herbaceum, often known as Levant cotton, is hypoallergenic and good for sensitive scalps. It can also be cruelty-free if animal rights are important to you, but you should check the label to be sure. Cotton does not adhere to hair as well as keratin, so it is electrically charged during processing so that the hair fibers adhere to natural hair via static.
Overall, using a keratin base hair fiber will ensure that the electro statically fibers cling to your hair and scalp, covering any thin or balding areas. Gives the appearance of a full head of hair!
EASY TO USE: 
Any hairstyle and kind of hair, whether curly, straight, wavy, or coarse, can benefit from the greatest hair building fibers. Some hair fibers, on the other hand, require a particular length of hair to be effective. However, the hair building fibers will operate as long as your hair is at least a half-inch long.
FACTOR OF RESISTANCE:
Water, wind, and perspiration resistance is claimed by almost all hair-building fibers. However, if you're driving about in a convertible, you'll want to be sure that's the case. Keratin hair strands keep their shape better and are more resistant to inclement weather and strenuous physical exercise.
SKIN-FREINDLY:
The hair fibers made of cotton will be the most soothing on delicate skin. However, one of the keratin-based fibers we looked at, SureThik Hair Thickening Fibers, has been dermatologist-tested and verified as safe for all skin types.
SPRAYS VS. POWDERS FOR HAIR LOSS: 
A spray that contains dyes to match your hair color and compounds that act as fixatives is the most frequent type of liquid hair loss concealer. Unfortunately, the sprays are less natural-looking and should only be used for minor touch-ups.

A spray attachment is available for some hair fibers and can be purchased separately. Hair fibers are applied to hairlines, parts, gray roots, and patchy beards with this attachment.

There are two types of concealer powders for hair loss. A brush-on powder, similar to a makeup finishing powder, is used to touch up minor areas between colorings, such as gray roots.

Hair fibers are also classified as a dry powder since they contain electrically charged keratin or cotton fibers that attach to existing hair.
WHAT IS HAIR LOSS CONCEALER AND HOW DOES IT WORK? 
A concealer for hair loss is a substance that is used to conceal thinning hair. It's available in liquid and powder forms, but hair fibers composed of keratin or cotton will look the most natural. For male pattern baldness, receding hairlines, graying roots, and patchy beards, the fibers will provide the appearance of thicker hair.
HAIR FIBERS: HOW TO USE THEM 
While the method for applying a hair loss concealer varies depending on the product's kind and composition, here's a step-by-step instruction for styling with hair fibers to hide hair loss.
1. Begin with completely dry hair:
You should start with freshly cleaned, dried hair before applying hair fibers. Apply the concealer after drying it with a blow dryer or other hair style instrument. After you've rubbed the concealer into the skin, apply any gels, creams, or paste.
2. Use existing hair to apply hair fibers:
Because hair fibers cling to a static charge, they should be applied to areas with thinning hair rather than bald places. Hair fibers don't promote hair growth, but they do give your hair a fuller, thicker appearance.
3. Select the Correct Color:
There are at least 9 different hues in the hair strands we looked at, ranging from light blonde to black to gray. Starting with a shade that is the same as or darker as your hair color will make it simpler to blend, according to the manufacturers. The lighter the color, the more powdered and artificial it will appear.

To create the right match, you can also combine two colours.
4. Filling In A Thinning Crown With Hair Fibers:
The most common region where males lose hair is the crown. To be able to see what you're doing, you'll need a hand mirror. Sprinkle the hair fibers on the part of the crown that you want to hide. You won't need much, but try to evenly distribute it. Gently pat the hair fibers to spread them with your fingers.

Combing the hair fibers is not recommended, but a soft brush can be used to scatter the fibers over your crown.
To see more of SureThik products check out our website for more fibers and tools