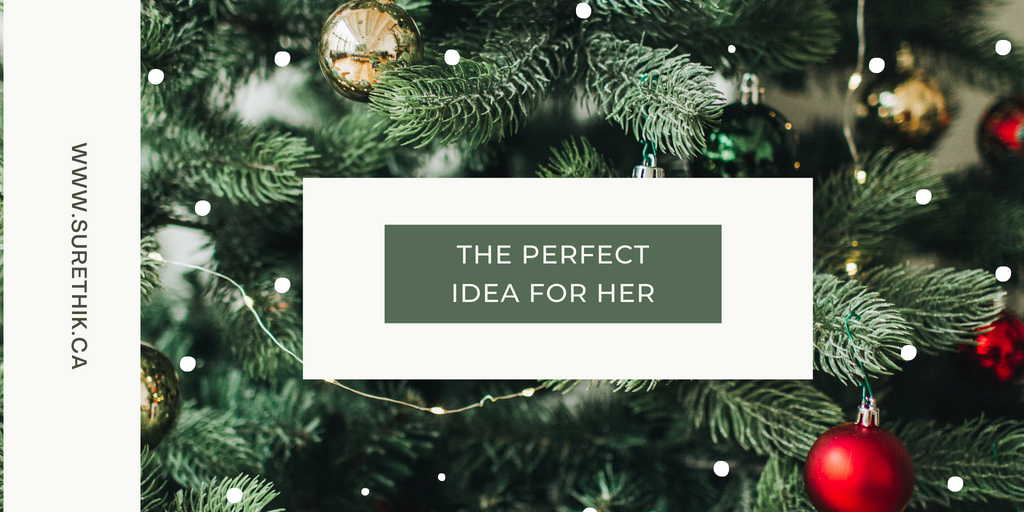 Haircare: Best Holiday Hair Gifts ideas for her
THE PERFECT GIFT IDEA FOR HER:
We are still learning about the virus's effects on our health and well-being several months to years into the COVID-19 pandemic, including extreme hair shedding. We lose 50 to 100 hairs each day during our typical hair cycle, while someone with telogen effluvium may lose up to three hundred hairs every day. Hair thinning might occur because of this much loss from the scalp.
As the beautiful seasons of gifting is coming and as December did not go as quickly as you expected, Christmas is approaching, and you have not even started thinking about Christmas gifts for your loved ones, much alone started shopping!
Your cozy Christmas night has now changed into a night of Christmas shopping, and although some may be overwhelmed by the sheer number of Christmas gift ideas for women and options available, we have done the homework for you. In the following holiday gift list, we have compiled the greatest Christmas gift ideas for woman, so all you must do now is match the appropriate individual to the correct category and shop away.

FOR ALL THE HAIR CARE LOVERS:
Experience nourishing restoration with this limited-edition Christmas package, wrapped in a sumptuous velvet cosmetic bag from a brand that never disappoints. It includes our hydrating Moisture Repair Shampoo, protein-rich Restorative Hair Mask, a full-size Perfect Defense, and a little Moroccan oil Treatment for free.
Product features:
Moisture Repair Shampoo

(8.5 FL.OZ./ 250 ml) - Gently cleanses hair while reinforcing it with keratin proteins, leaving it strong and manageable.

Restorative Hair Mask

(8.5 FL.OZ. / 250 ml) – A renewing treatment that lasts 5–7 minutes. Argan oil, shea butter, and proteins are abundant in this high-performance, thoroughly healing solution.

FREE

Perfect Defense (6 oz. / 225 ml) — This nutritious solution rehydrates the hair while protecting it from the destructive impacts of heat styling at temperatures up to 4500F/2300C.

Moroccan oil Treatment (0.34 FL.OZ. / 10 ml) is complimentary. This renowned treatment, which is rich in argan oil, conditions, increases shine, and fights frizz. According to independent research, only one application of Moroccan oil Treatment boosts shine by up to 118 percent.
This limited-edition package includes a full-size of No.3 Hair Perfector, the first bond-builder for reducing breakage and split-ends, substantially smoothing, and protecting hair. Complete the treatment with No.4 and No.5 Bond Maintenance Shampoo and Conditioner in travel-friendly packages for moisturized, easy-to-manage hair. Finish with a full-size bottle of No.7 Bonding Oil for a deep sheen and heat resistance up to 450°F/232°C.
How to use:
3:

For damaged hair, use up to three times per week.

4 + No.5:

Designed for everyday or every-other-wash usage.

7:

Use on damp or dry hair every day, or before styling with heat.
Show us your soft side by baring it all. The ultimate power pair is our Revitalizing Shampoo and Nourishing Conditioner. To begin, gently wash your hair with our Shampoo to remove product build-up, pollutants, and excess oils that weigh your hair down. To increase smoothness and luster, drench your strands in our thick and creamy Conditioner now that your hair can breathe. Your hair will feel silky smooth, rejuvenated, and healthy. There are no parabens, sulfates, or synthetic perfumes in this product. Only natural hair products are used.
How to use:
Revitalizing Shampoo should be used to damp hair and gently lathered over the scalp. Rinse well and wring out any extra water until your hair is moist. Conditioner should be applied from root to tip on a dry scalp. Focus on the mid-length and ends if your hair is fine or greasy. Allow to sit for 3 to 5 minutes before thoroughly washing with icy water.
Sulfate-free, deep cleansing, and energizing solutions made exclusively for men and women. Our Root Penetrating Shampoos clean and rejuvenate the scalp by penetrating deep into the follicle without the use of toxic sulfates. Hair that has been dyed or chemically treated is safe to use.
Free of parabens, revitalized, and hydrated: The Boost Conditioner is loaded with nutrients and botanicals that support healthy hair and scalp for both men and women. Antioxidants help to hydrate, strengthen, and revive hair that is weak or damaged. This mild conditioner aids in the transformation of fine and thin hair into thicker, more manageable strands. With each application, the volume and suppleness of the hair will improve.
What it does:
SureThik Shampoo cleans deep into the pore to remove build-up, which is essential for healthy hair and scalp regeneration. Our tri-cleansing ingredients unclog pores and give thorough cleaning, removing excess sebum and debris that can be detrimental to the follicle. The hair is silky and manageable after treatment. Antioxidants help to strengthen hair that is weak or damaged from the roots up. Hair and scalp are left feeling clean and revitalized. After each wash, the scalp will be free of toxins, germs, sebum, and debris.
SureThik conditioner is a lightweight solution that moisturizes, nourishes, and strengthens your hair with quality, nutrient-rich ingredients. Aloe, Argan, Moringa, Jojoba, and Sweet Almond oils, as well as Panthenol, Zinc, Nettle, and a range of natural extracts, strengthen, add volume, and shine, and make hair feel silky and luscious without weighing it down.
The importance of scalp care for healthy hair cannot be overstated! Scalp Revival Charcoal + Coconut Oil Micro-Exfoliating Scalp Scrub Shampoo is an award-winning shampoo that removes pollutants and debris from the scalp. To restore important scalp moisture, use Scalp Revival Charcoal + Tea Tree Cooling Hydration Scalp Mask in the shower. This package contains a travel-size Scalp Revival Charcoal + Tea Tree Scalp Treatment and a Scalp Revival Charcoal + Biotin Dry Shampoo for touch-ups throughout the day, which helps to hydrate the scalp and absorb excess oils. For the ultimate scalp care regimen, the Stimulating Scalp Therapy Massager promotes healthy circulation.
Product Feature:
8 Fl oz

Scalp Revival Charcoal + Coconut Oil Micro-Exfoliating Shampoo

6 Fl oz

Scalp Revival Charcoal + Tea Tree Cooling Hydration Scalp Mask

17 Fl oz

Scalp Revival Charcoal + Tea Tree Scalp Treatment

14 Fl oz

Scalp Revival Charcoal + Biotin Dry Shampoo

1 Scalp Revival Stimulating Therapy Massager
HAIR LOVER: HAIR TOOLS
Dyson has lately entered the realm of hair, releasing its second product, the Dyson Airwrap, a hair styles that uses the power of air to twist hair strands at a maximum heat setting of 302 degrees Fahrenheit. This Christmas present idea for her is a long-term investment in healthy hair, even though it is a premium product.
What To Love About It:
Less heat is applied to your hair

One tool with several applications

Use on wet or dry hair

If you just want to pack one hair tool on a trip, this is a great option
The Helios Professional Hairdryer from GHD is here to help you improve your hairstyle. This winner of the 2021 Best of Beauty Award has a silent brushless motor that produces a 75-mile-per-hour airflow for lightning-fast drying. Drying and control are precise because to the ultra-slim nozzle. There is also no reason not to try it because it promises to give your hair 30% more shine than when you dry it naturally.
What To Love About It:
For a stunningly smooth finish, innovative ionic technology is used to eliminate frizz and flyaway

Hair can be fixed in place for longer thanks to the GHD Air's variable power and temperature settings (including a cool shot option)
This smart flat iron allows you to input specific information such as hair length and texture to calculate the ideal style temperature for your hair automatically. With nine temperature settings, this iron is ideal for everyone, ensuring that even the finest hair is not scorched. It received high marks for making hair substantially shinier.
What To Love About It:
Hair that is glossy and silky-smooth gets top marks.
Temperature may be adjusted up to 410 degrees Fahrenheit.
Personalized settings based on your hair type
So, whether you're searching for a budget-friendly secret Santa present, thoughtful stocking fillers, or a standout luxury gift for someone special this year, our Christmas Buyers' Guide has something for everyone. All we ask is that you grab a glass of mulled wine and sit down for a stress-free Christmas shopping spree!