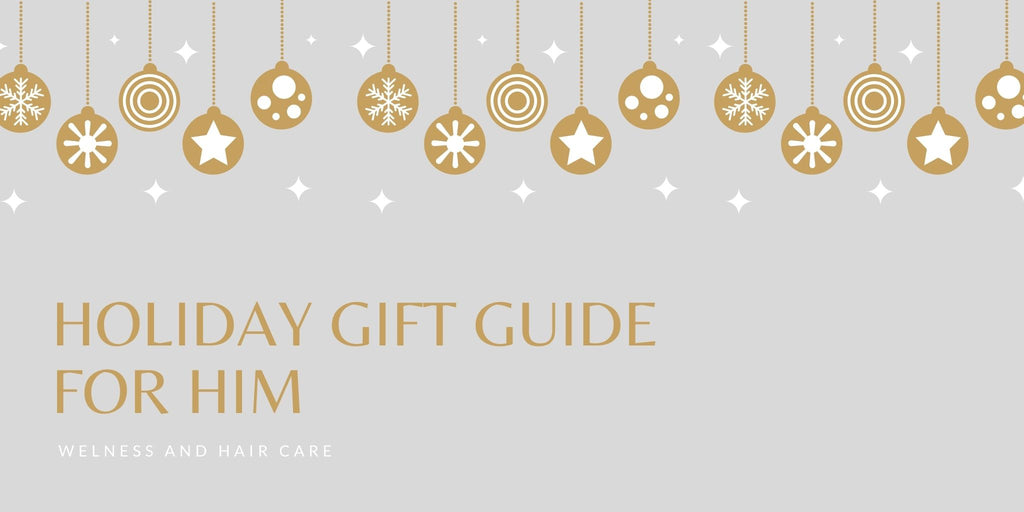 Haircare: Holiday Gift Guide for Him
In recent months, hair loss of various kinds has been a hot topic in the haircare world. We wanted to emphasize and bring attention to the importance of maintaining a healthy scalp and preventing hair loss in both men and women. I thought it was necessary to mention this since discussing hair loss can be highly humiliating and awkward for many people, and it may also be quite upsetting. It's crucial to remember that you're not alone and that there are options!

The most prevalent reasons of hair loss will be discussed. If you're searching for some genuine Christmas buying inspiration this year, you'll be happy to hear that our Christmas Buyers' Guide is chock-full of hair and beauty gift suggestions.
HAIR CARE:
Aloe Vera, camelina oil, and green tea are included in this face scrub for guys. It was created with the goal of removing dead skin and leaving the skin feeling smooth and cleaned. It is suitable for sensitive skin and may be used to the scalp.
The product has been particularly designed with black charcoal to exfoliate the skin and limit the build-up of excess oil. It contains witch hazel, willow bark, and juniper as part of an all-natural ingredients list (which can cause irritation and blemishes to occur over time).
Benefits:
Close Shave:

Preparation is the key to a perfect shave. For a close shave, our Original Shave Gel was precisely made utilizing the finest of nature and technology.

Deep Cleansing:

The delicate yet effective solution is designed specifically for men to address the challenges that men's skin faces, such as facial hair, leaving your skin feeling deeply cleaned.

Smoothing:

Up to three times a week, use the face scrub for men to keep your skin smooth and well-maintained.
Hair Building Fibers is a one-of-a-kind compound of organic keratin protein precisely cut into small micro-sized fibers. These tiny hair strands provide density, volume, and comprehensive covering to your current hair and scalp. SureThik® is derived from the same organic keratin protein found in your own natural developing hair. It is a fully natural and safe treatment for both men and women.
Benefits:
Waterproof, windproof, and perspiration proof

Almost any hair color is available

Both men and women will like this item
This dual action clarifying shampoo works as a scalp exfoliator and a hair detox, eliminating excess sebum and product build-up. A unique blend of necessary nutrient-rich Manicouagan Clay and exfoliating Coconut Shell beads make up the silicon-free, vegan product. The scalp will feel revitalized, and the hair will be silky and manageable, thanks to this product designed for men with all hair types.
Benefits:
When gently rubbed into the scalp, coconut shell beads increase microcirculation, supporting a healthy scalp and hair.
80 percent of the materials are obtained from nature.
Excess oil, debris, and hard water mineral buildup are all removed from the hair and scalp.
Iron, calcium, sodium, potassium, and zinc are all vital elements in Manicouagan Clay.
WELLNESS:
6ixman is a proud Canadian brand that ensure that their products have an amber-tinted glass container contains a unique combination of organic and natural oils that are high in antioxidants. Some immediate effects include a soft, controllable beard with a perceptible glow, as well as assisting in the moisturizing of dry skin, rejuvenating beard hairs, and stimulating healthy beard development. This gift is perfect your special someone who is looking to get into selfcare without the tedious work behind a nice glow!
What's included?
Bamboo Brush: Synthetic bristles, handcrafted from bamboo and emblazoned with the 6IXMAN emblem, brush oils into your skin and the roots of your beard hairs to efficiently nourish and smooth. The only technique to evenly apply SIXOIL to your beard's base roots.
Power Balm: This beard balm is rich but light, making it ideal for taming stray hairs and reducing the irritation and flakiness that come with beard development in its early stages. This balm enhances the look and feel of your beard while simultaneously conditioning the skin beneath it with moisture-enhancing natural oils including Argan, Cactus, Sesame, Castor, Avocado, and Coconut. Our finest beeswax and nutritious Shea butter provide a light grip with a dazzling sheen. Orange Blossom is a fresh and exotic smell that will infuse your beard.
Fresh Face: A 2-in-1 face and beard wash that was created to assist create the ideal environment for developing a longer, fuller beard. It washes softly and efficiently, prevents scalp dryness, and conditions both the beard and the skin beneath it. Rosewater, Argan, and Cactus Oils, together with the benefits of Sesame and Castor oils, help seal in moisture and minimize frizz. Your senses will be enlivened by the aromatherapy perfume of Oceanic Seaweed and Rosewater.
6ixman bread oil: In a bottle, masculine sensuality. This beard oil is a particular combination of antioxidant-rich organic and natural oils. It helps to moisturize dry skin, revitalize beard hairs, and promote healthy beard growth. A smooth, manageable beard with a perceptible shine is one of the first benefits. It also has a wonderful aroma!
The original men's hairstyling product, pomade, has become a de facto umbrella name encompassing a wide range of men's styling products. But when we talk about pomade, we're talking about the real deal, which comes in two varieties: oil-based and water-based.
Oil-base:
Oil-based pomades have been around since the 18th century and are a classic. They're made from grease or petroleum products and give you that high-shine, slick look that can be combed back into place throughout the day.
Oil-based pomades, on the other hand, can be extremely difficult to remove from your hair. Because oil and water don't mix, you'll have to use a lot more shampoo to get it out.
It's unlikely that you'll want to utilize it every day. Oil-based pomade, on the other hand, will give you a genuine appearance and feel if you're trying for a retro-inspired combover or pompadour.
 Layrite Holiday Gift Set, Limited Edition:
Ruby Red Layrite Medium Comb, Limited Edition

Deluxe Shampoo & Conditioner, 10 ounces

Original, Natural Matte, 4.25oz Super hold
For an ultra-close, smooth shave, use this product to complete fades and remove stubble. Even if your battery runs out, cord/cordless operation ensures that you never have to stop shaving. The hypoallergenic foil heads are staggered for the ideal cut, and the lithium-ion battery lasts for 80 minutes on a single charge.
hypoallergenic foil for irritation-free shaving
1 hour of run time
A quality stand-up charging stand is included