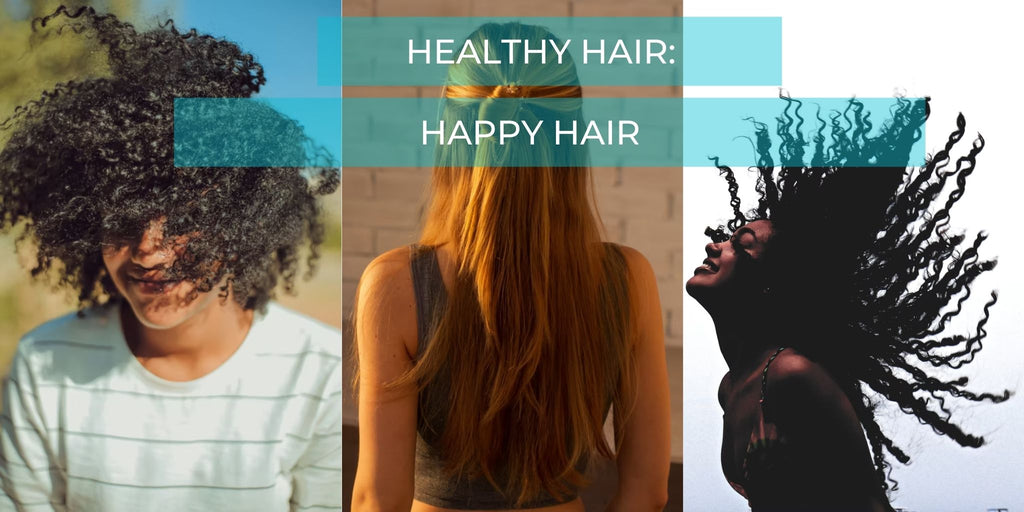 Happy Hair: Happy Life
What are our objectives? Hair that is in good condition. When do you think we'll get it? Now!
When it comes to keeping a hair regimen, there are several questions and variables to consider, some of which can be long-term answers to obtaining healthy hair. We understand that in today's era of immediate gratification, waiting 2-3 months to see the results of your effort might feel like an eternity, which is why we've compiled a list of things you can do right now to have the hair of your dreams.
Many ladies have always desired thick, bouncy hair with a high shine, but keeping healthy hair might seem like a lot bigger challenge than it is! Is it better to use oil or not to use oil? Follow along below for all our tried-and-true hair-care advice.
5 COMPONENTS OF HEALTHY HAIR:
1: MAINTAINING A HEALTHY SCALP:
Oil, hair products, dead skin cells, and grime may all clog the pores and follicles of your scalp. This irritates the scalp, slows hair growth, and provides a breeding ground for bacteria and fungus. Fungus, bacteria, and other infections can cause dandruff, itching, inflammation, and a number of other problems. So, don't forget to scrub your scalp! Let's look at some techniques to maintain your scalp healthy.
Three ways you can keep your scalp clean and strong:
Choosing the correct shampoo and conditioner for your hair type is essential: It's critical to consider your hair type when selecting a shampoo that can assist reduce scalp buildup. Shampoos are available in a variety of formulas, including oily, dry, textured, and more! It is essential that you use a clarifying shampoo to clean your scalp on a regular basis. Such as root penetration shampoo by SureThik will help penetrates deep into the pore to remove build-up, which is essential for the restoration of healthy hair and scalp. Our tri-cleansing ingredients unclog pores and give deep cleaning, removing excess sebum and debris that can be detrimental to the follicle. The hair is silky and manageable after treatment. It is recommended that you use once every 1-2 weeks to clean your scalp without depleting it of moisture.
Apple cider Vinegar: Apple cider vinegar (ACV) is a popular condiment and health food. It's formed from apples through a fermentation process and contains living cultures, nutrients, and acids. ACV may be used in a variety of ways as a home remedy. One of these applications is as a hair wash, which promotes scalp health, hair strength, and shine, as well as helping to clear the scalp.
Exfoliate your scalp: You're probably aware of how to exfoliate the skin on your arms, legs, and other body parts. But have you considered exfoliating your scalp? This can be done 1-2 times a week, which will help with the appearance of buildup on the scalp
2: CALL YOUR HAIRSTYLIST:
Although some individuals despise the notion of cutting their hair, it is one of the most important measures you can do to keep your hair healthy! Trimming your hair on a regular basis will assist to enhance the look and feel of your hair by removing dry, damaged regions and split ends, as well as minimizing breakage. If you're afraid of getting a haircut, bear in mind that the cut doesn't have to be drastic. To keep your hair appearing fresh, a decent rule of thumb is to cut it half an inch to an inch every 2–3 months. If your hair stylist over-cuts your hair (which occurs to everyone!)
3: HARMFUL INGREDIENT: SAD HAIR
What factors do you consider while buying shampoo and conditioner for yourself? Do you rely on a brand's advertisement, online reviews, or the ingredients list to make your decision? Yes, developing the practice of reading hair care product labels is a smart idea. If you have no idea what is harmful for your hair SureThik got you!
Sulfates: Sulfates are low-cost cleansing agents that are widely used in shampoos since they are very good at dissolving oil and leaving your scalp and hair feeling squeaky clean.
Sulfates to look out for: Sodium Lauryl Sulfate (SLS) and Sodium Laureth Sulfate (SLES)
Parabens: To keep bacteria from multiplying, preservatives like parabens are utilized in cosmetic formulations. Parabens come in a variety of forms, including butylparaben, ethylparaben, methylparaben, propylparaben, and isobutylparaben. The major reason for avoiding parabens is because they are easily absorbed through the skin and might cause damage to your scalp.
Alcohols: Denatured alcohols are a type of cosmetic chemical that, if used too regularly or in high concentrations, can be drying to the scalp. As a result, it's advised to stay away from any hair products that feature alcohol as one of the first components. Make sure you watch out for these ingredients': ethanol, SD alcohol, denatured alcohol, propanol, propyl alcohol and isopropyl alcohol
Silicones: The usage of silicones in beauty products has a love-hate connection for many people. Silicones work as a protective seal by covering the strands and leaving your hair with a glossy, smooth finish when used in conditioners and style treatments. Silicones are emollient slide agents that help to lock in moisture and give hair a smooth, immediate (but fake) shine. Silicones weigh down your hair, and because they add an outer seal to our hair cuticles, they prevent moisture from accessing the hair shaft, causing your hair to dry out over time. Be sure to watch out for these ingredients: acetyl dimethicone, amodimethicone, trimethylsilylamodimethicone.
4: BALANCED PH LEVELS: To keep healthy hair you might realize how important it is to make your pH level must be a balanced average. How do we know if we have an uneasy pH Balance? The pH of a healthy scalp should be between 4 and 5. The pH of your scalp is crucial for hair moisture retention. Acid flattens the hair cuticle, allowing it to keep moisture.
Ways to maintain a balance pH Levels: 
pH Balanced Shampoo & Conditioner: If you use a clarifying shampoo, you can restore your hair's healthy shine with a slightly clarifying rinse or conditioner. However, using a high-pH cleanser followed by a cleansing solution will be quite harsh for your hair, so it's best to adhere to a pH-balanced routine. Check out

SureThik' s

for more options on cleansing shampoo.
DIY pH Balance: There are natural remedies that will help support the pH level: Baking Soda will clean your hair thoroughly, and your hair may appear healthy and lustrous for a short time. Because baking soda is alkaline, you'll need to follow it up with an acidic rinse, such as aloe juice or apple cider vinegar, to keep your hair's pH in check.
5: MUST HAVE: SILK PILLOWCASE
Another common irritant to the hair is the material of your pillowcase. We suggest swapping out your cotton pillowcase and making a stop today to purchase a silk one if you struggle with morning bed head or frizz. Cotton can pull and tug on the hair while you sleep, but silk's smooth texture allows the hair to flow freely, and in turn, creates less frizz and tangles.
You may have asked yourself "what is the big deal with pillowcase" let me tell you are missing out!
Pillowcases prevent frizz: Yes! The very smooth texture of silk means that the hair slides over it without rubbing. This means that while cotton can get caught in the hair and get entangled in the nest, it is less likely to wake up with frizzy hair, tangles, or bedheads overnight tangles. Sleeping on silk is a secret that textured curly hair women have used for years to prolong hairstyles such as braids and blowouts without adding frizzy.
Keeps your hydrated: Thanks to this very smooth texture, this is really true. The suppleness of silk. It means that it is difficult to absorb water from the skin. beautifully moisturizes the skin without depriving it of valuable moisture. This makes silk pillowcases ideal for people with dry skin (or those who use it in the dry winter months).
Prevents split ends: The slippery and smooth texture of silk prevents tangling and curling, but it does not completely prevent hair breakage or damage. Instead, use a deep conditioner to trim regularly to prevent the edges from cracking.
Healthy hair may look like the future, but with just a few simple changes to your routine, you can make a noticeable difference! What are your favourite tips for healthy hair?