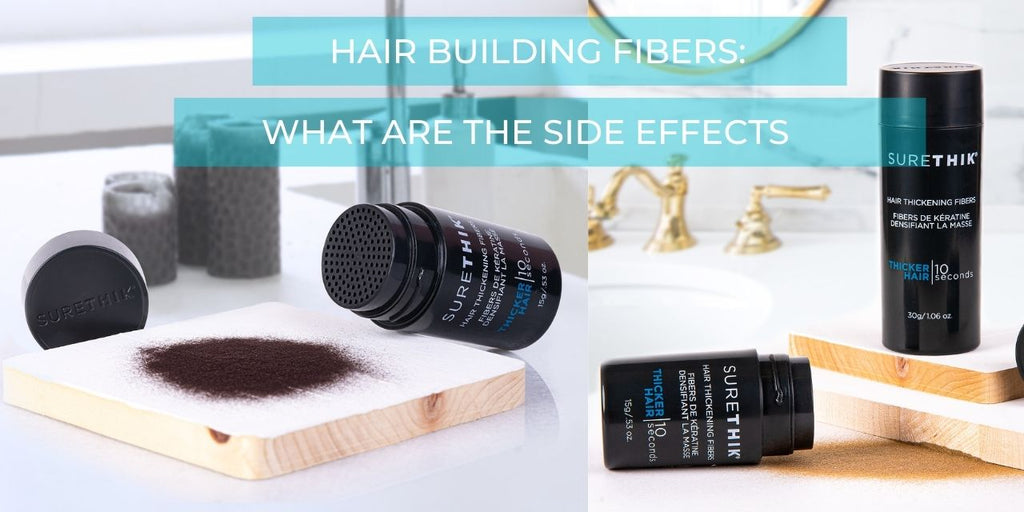 Hair Building Fibers: What Are The Side Effects?
Accepting male or female pattern baldness is a challenging task for many of us. Many men's first reactions to hair loss include annoyance, despair, and denial. Others begin investigating various strategies to prevent their hair from thinning more.
Hair fibers are one of the most promising treatments for some forms of hair loss available today. While surgery has been the go-to treatment for people who have lost a lot of hair, it isn't necessarily the best option for other types of baldness. For example, in the early phases of balding, there is sometimes still the possibility of naturally reversing or even stopping hair loss. Furthermore, surgery may not be possible with diffuse thinning unless hair loss progresses.
WHAT ARE HAIR BUILDING FIBERS?
Hair-building fibers are a type of treatment that improves the appearance of your hair. Hair-building fibers are applied to the hair as a topical therapy, similar to shampoo or conditioner. They can't be used on a bald or bare scalp because they're applied to your hair.
Hair-building fiber products instantly make your hair look thicker by covering bald spots and giving the appearance of a full head of hair once applied. The hair fibers not only improve the appearance of your hair immediately, but they also function to support healthy hair.
SURETHIK HAIR FIBERS:
Surethik are developed as a quick, simple, and dependable hair loss cure. Each product has been clinically designed for men and women who have thinning hair, thinning portion lines, or bald areas on the scalp. Our solutions, which are designed and manufactured in North America, will provide a simple answer to your hair thinning issues.
 An innovative Hair Fibers Technology part is included in the recipe. Powerful electrostatic-charged fibers attach to fine hair and simply produce the look of fuller hair in seconds are among the technologies featured in our composition. SureThik has put a lot of effort into our hair-building fiber technology to ensure that they won't smudge, smear, or clump like some of the lower-quality hair fibers.
Our one-of-a-kind recipe produces astounding results. See Before and After photographs to see some of our amazing customer makeovers. You'll be astounded at how much fuller and more natural customers hair appears after treatment.
The award-winning hair loss concealers are constructed of 100 percent natural keratin, which mimics actual human hair and blends in seamlessly. This means you may add volume to your hair with only one treatment. Plus, our products are smudge and smear-proof, so you can concentrate on the important stuff. SureThik can help you gain confidence in minutes.
SureThik' s natural hair fibers work on all types of hair and come in a variety of colors for a flawlessly coordinated look. The hair loss filler withstands perspiration, rain, and wind thanks to the SureStay Technology, and they stay put until shampooed.
HOW HAIR BUILDING FIBERS
Hair fibers give your hair a fuller appearance by sticking straight to it. Keratin protein, which is statically charged, is used to make hair fibers. When the fibers are applied to your hair, they adhere to each strand, making your hair appear thicker and fuller.
Hair fibers entwine with your hair and stay in place until they're washed out in the shower. They are very unnoticeable and can efficiently remove bald areas or exposed scalp. Hair fibers are a quick and easy technique to add volume to your hair. SureThik Hair Thickening Fibers are made of keratin-derived fibers and blend in easily with your existing hair to give it a fuller appearance. The Thickening Fibers are an all-natural remedy for both men and women suffering from hair thinning. The organic keratin protein fibers are tiny and work together to provide entire covering and a full volume appearance. SureThik Hair Thickening Fibers are completely safe to use and are resistant to rain, wind, and perspiration.
DO HAIR FIBERS HAVE SIDE EFFECTS?
Cotton vs Keratin Wool hair building fibers:
Hair fibers are a cosmetic that covers up sparse or thinning  hair in a matter of seconds. They are incredibly compatible for men and women of all ages, regardless of hair or skin color, and they are artistically pleasing.
Static electricity is used to charge these microscopic threads, allowing them to securely adhere to one's natural hair and stay firm throughout the day. Keratin fibers are kept in containers constructed of 'very sophisticated polymers,' which generate static charge.
Wool Based Keratin fibers are a safe, effective, cost-efficient, and easy choice for adding fullness and thickness to hair until the next time it is shampooed. They are not distinguishable/detectable by the naked eye at a distance of 2 inches. It's easy to use at home.
Keratin hair fillers vs Cotton Fibers are the most natural of all the hair loss building fiber  because it comes from actual Hair Based Keratin. Because these fibers are negatively charged compared to the positive charge of hair, they have stronger adhesive qualities and are therefore difficult to remove. Wool or Animal Keratin Fibers provide significantly better scalp covering than Cotton based Keratin.
Because keratin wool fibers are more natural and non-toxic, they can be utilized in hair transplants and are highly compatible with all hair products. They are free of artificial components and synthetic dyes, as well as natural minerals such as iron oxide, which are obtained from nature, whereas other fibers such as cotton must be processed to appear like real hair with chemicals and industrial colorants.