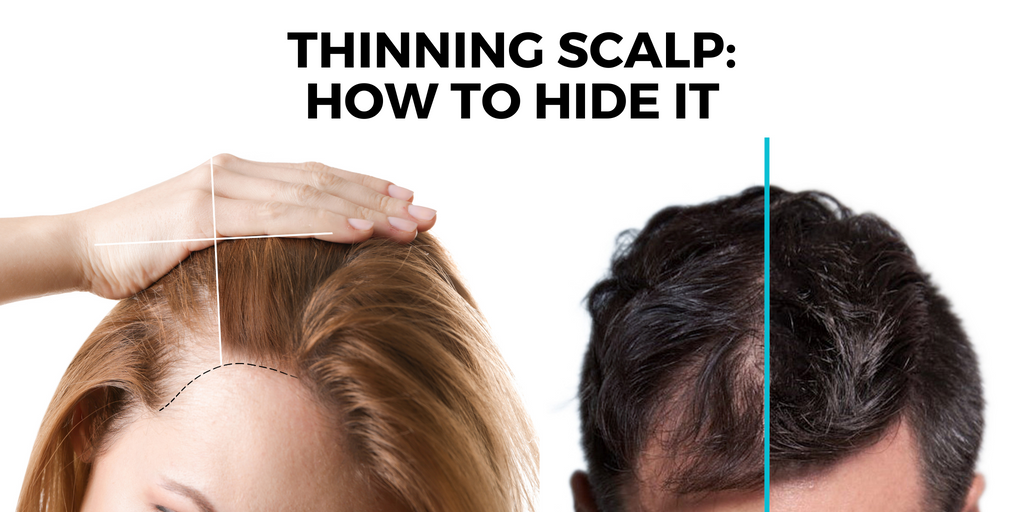 How to hide your scalp if you have thinning hair?
How to hide your scalp if you have thinning hair?
If your hair is thinning or your hairline has signs of hair loss, there are several ways in which you can keep your scalp from showing. From getting a textured haircut to add volume to ways on how to camouflage your scalp, we are going to teach you how, and help you feel more confident as a result!
Male pattern baldness affects around 50% of males in Canada. It can begin as early as adolescence. Male pattern baldness affects four out of every five males. In Canada, over 40% of women show indications of thinning hair by the age of 50. Genetics, as well as some hormonal influence, are thought to be involved.
1: Use a hair strengthening shampoo:
Hair that is limp, drooping, thin, or falling out is considered weak. Split ends, acute dryness, and excessive oiliness are all indicators of brittle hair. It is frequently inherited from a parent, but it can also be caused by hormonal changes such as menopause or childbirth, birth control pills or other drugs, sickness or illness, bad diet, stress, a fungal infection of the scalp, or cancer therapies. Sun exposure, chlorine or salt water, air conditioning or heating, and pollution may all damage hair. Using a shampoo that provides the proper nutrients to your hair and scalp may make a major impact in the appearance of your hair thinning by avoiding future hair loss and breakage. Using a shampoo that will make your hair stronger and healthier will automatically make your hair look thicker and more voluminous. Below are 3 great shampoo that will help restore your hair!
We've compiled a list of the top hair development shampoos on the market:
2: Thicken your roots with a volumizing product:
Massage a little quantity of volumizing mousse, hair spray, or dry shampoo into your scalp with your fingertips. These products produce air bubbles between each hair strand, giving the appearance of thicker hair; also, by lifting and holding the hair, you may style it in a way that flatters you!
Tip: When it comes to hair mousse, remember that little is more - you don't need to apply a lot to attain the desired effects. Work an egg-sized quantity of product through your damp hair with your fingers, emphasizing on your roots. If you want a natural, lived-in look that emphasizes your hair texture, simply let the mousse work its magic and air dry it. Grab your blow dryer if you like a blowout or a more styled appearance.
Our favourite volumizing products:
3: Make your hair instantly thicker and fuller with Hair Thickening Fibers:
Hair thickening fibres can be applied in as little as 30 seconds and will instantly conceal any bald spots or signs of hair thinning, which is especially useful if the thinning is visible along the hair line. Hair fibres will easily and effectively create a brand-new hairline of fuller, thicker hair for you! The best thing is that certain brands will last all day, even if it rains or if you go to the gym; just be sure to get a high-performance brand of fibres that will remain on without spreading until you wash it off.
Tip: Use a Sprayer Applicator to create a mess free hairline, this allows the process to be even easier and more precise and use the shaking method for the top of your head, if you have any noticeable thinning there.
                                        © Images courtesy of SureThik INC.
See below our favourite Hair Thickening Fiber and Sprayer/Applicator combo:
This one includes a big bottle of fibers, the holding spray for an extra hold and the application tools with a sprayer!
 No Sprayer included, but a great combo to get you started with a bottle of fibers and holding spray
If you simply want to test and see, the 15g bottle of fibres is a good place to start. The best thing is that all of these goods come with a money-back guarantee, so if the product isn't appropriate for you, you can return it for a full refund, no questions asked.
4: Talk to your Stylist:
Talk to your stylist about your concerns the next time you go for a haircut; they will most likely be able to recommend a treatment or haircut that will benefit your specific hair type and thinning pattern; however, try to always go ask for the hair to be cut at an angle; this will create more movement, giving the appearance of a more textured, fuller hair, avoiding hair looking flat and dull.
Tip: Vary where you separate your hair once a month, and if you don't have a part, change the way you style it often. Moving your hair position around will keep it from looking flat or limp, and because our hair gets used to a specific position, styling it in a different direction will make it appear more voluminous instantly, as the hair will naturally show some resistance to the new style, providing you with instant volume.