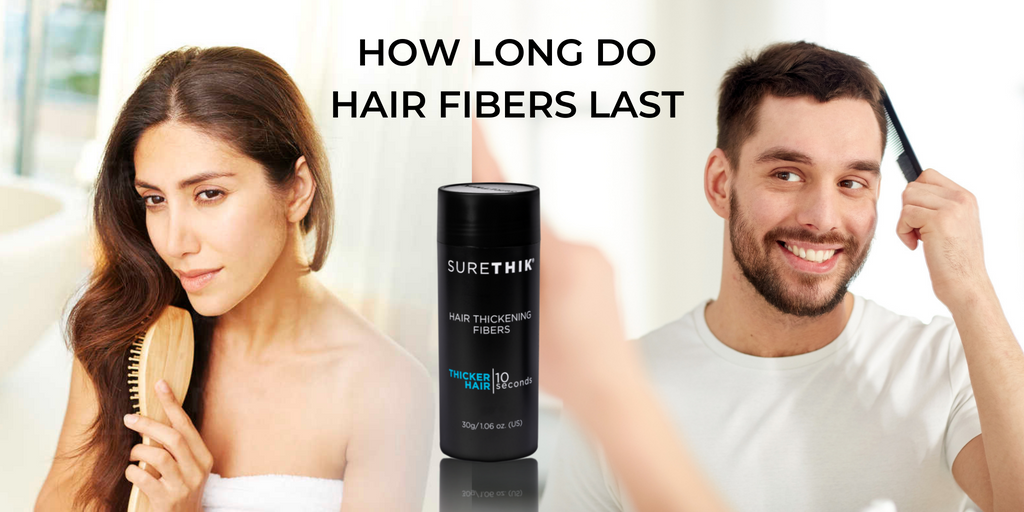 How long do hair fibers last?
We're sure you've wondered not just how long hair thickening fibres endure, but also how you might extend their lifespan if necessary. How long will the fibres stay on your hair and how long will a bottle last? Without further ado, have a look at the information, advice, and facts provided below!
Not all Hair Fibers are made the same!
Female pattern baldness is a kind of baldness that affects women. Male pattern baldness is a condition that affects men. Hair loss as a result of stress. Alopecia areata affects both men and women. Or, depending on your hair loss situation, you may have recently learned what hair fibres are. So keep that in mind when choosing hair fibres: choose a brand with a high-performance formula, which will not only help them last longer on their own, but will also ensure that they won't smear and smudge when you sweat or are exposed to rain, humidity, wind, and other elements.
Tips to pick a long-lasting hair fiber:
Choose a keratin-made fibre over a cotton (or other material) fibre because keratin-made fibres are superior in quality and performance. SureThik Hair Fibers, for example, are made with natural organic keratin that is also electrostatically charged, allowing them to blend in naturally with your hair and stay in place all day. Pick a High-Performance thickening fiber: This will ensure your fibers don't smudge, smear or move around during High-Performance Fibers will not spread or move about during the day, enabling you to go about your normal routine. If you are out and about and rely on the weather (rain, snow, wind), High-Performance Fibers will not smear or move around and should stay on until you wash them off with shampoo. High-performance fibres are ideal for the present summer weather since they maintain their natural appearance even in direct sunlight and are unaffected by humidity.
Select a bottle size that meets your requirements: How long your bottle will last depends on how many visible indications of hair loss or thinning you wish to conceal. A 15g bottle will usually last 30-40 days, and a 30g bottle will last 60-80 days, however this can vary depending on how much hair loss you have. We recommend that you figure out how long a bottle will last for the area you want to cover so that you can obtain the precise size you need in the long run.

How to make my fibers stay longer on my hair?
You've already addressed this issue if you choose a high-quality fibre; however, how do you acquire that extra grip when you want or need it?
Fibers should be applied to dry, styled hair to seal in the fibres while preserving the styling. We recommend patting down the fibres with your palm to set and secure them in place. If you want to be extra safe, spray a pump or two of SureThik Alcohol-free Fiber Holding Spray after you've finished applying your fibres. This will give you that extra grip while also adding a natural shine to your hair! This product is also non-sticky, re-stylable, alcohol-free (so no hair damage), and will keep your fibres in place no matter what activity you're doing.
The combination of high-performance hair fibres and the extra added strength of the holding spray will ensure that your fibres stay exactly where you apply them, mess-free, and last through any activity, even those where it's guaranteed you'll be exposed to sweat, water, heat, snow, rain, strong winds, and other elements, your fibres will stay on, allowing you to rock your fuller hair no matter what.
Fibers have no negative side effects, do not interfere with other hair growth therapies, and may even be used by those who have had hair transplants! This also applies to the SureThik Holding Spray, allowing you to relax and trust that your thicker hair will not fly away.
The greatest thing is that if you buy a bottle of fibres and a bottle of holding spray together, you'll save money. Take a look at our packages!
If you are unsure, you can always try any SureThik products with ease, as we count with 100% Money Back Guarantee, so you can shop and try with peace of mind, and zero risks!
Follow for more tips on our Facebook and Instagram pages.