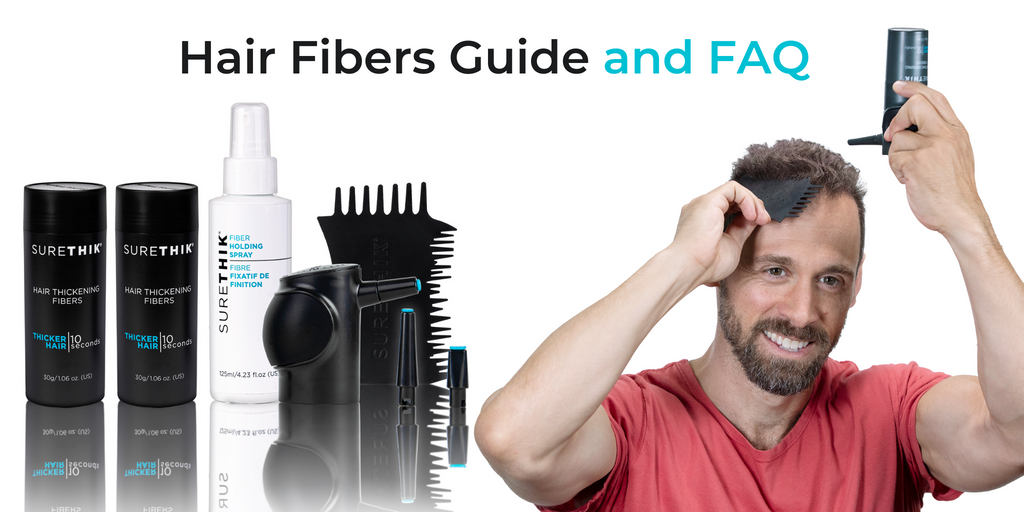 SureThik's Most Asked Questions
SureThik Hair Building Fibers are a fantastic way to rapidly make your hair look thicker and fuller. They aren't permanent hair fibers, but they do last a long time. SureThik Hair Fibers will stay in your hair till you shampoo it again if applied appropriately.
However, we frequently receive inquiries regarding how long hair fibers endure, so we asked these SureThik consumers to share their experiences. So, if you've ever wondered how long hair fibers survive, keep reading to learn how SureThik Fibers fare in a variety of scenarios.
HOW TO USE SURETHIK FIBERS: 
Hair Building Fibers are fantastic for anyone who wishes to conceal their thinning hair problem. These keratin-derived fibers are safe and blend seamlessly with your own hair to give it a thicker, fuller appearance. SureThik will walk through 4 easy steps on how to use hair fibers.
1: APPLY ON DRY HAIR:
To promote equal dispersion, hair fibers must be applied to dry hair; this prevents the fibers from clumping on the scalp. With dry hair, you may take use of the fibers' electrostatic charge to build a strong bind with natural hair and provide a good grip. The hair fibers adhere to the existing hair thanks to static electricity. For the optimum adherence, the hair fibers should be applied when the hair is completely dry. Furthermore, the fibers may become lumpy when applied to damp hair.
2: USING THE FIBERS IN LARGE AREAS:
To apply SureThik fibers to a large area, gently shake the bottle to allow the keratin powder to pass through the sieve and rest on the hair: their electrostatic charge will cause them to adhere to the natural hair, giving it an instant fuller appearance.
In addition, rather than applying many hair fibers in one go, use them in layers in several stages. For example, apply a coating, spread it out with your fingers, or lightly brush the hair with a coarse brush to spread the fibers. Determine whether more fibers are required, and then apply more if necessary. This should be done until you are satisfied with the outcome.
3: USING FIBERS IN PRECISE AREAS
When utilizing keratin hair fibers, the hair fiber applicator is a must-have accessory. It's a device that can be attached to a hair fibers container. The applicator ensures that the hair fibers are administered more accurately to the places where they are thinning. It also makes uniformly dispersing the fibers easier. As a result, the applicator has a more natural appearance and is also more environmentally friendly.
Fiber Applicator is ideal for covering extensive areas and hairlines with fibers. Gives you the evenest coverage for a very natural appearance. The Hairline Tool makes creating a natural-looking front hairline a breeze.
Large area:
To apply keratin fibers to a large area, gently shake the bottle to allow the keratin powder to pass through the sieve and rest on the hair: their electrostatic charge will cause them to adhere to the natural hair, giving it an instant fuller appearance.
4: FIBER SECURITY:
Hair fibers are highly adherent to your own hair. Fiber hold spray can help to improve this by ensuring that the hair fibers remain longer. The fiber hold spray is a fine mist designed to strengthen the bond between keratin hair building fibers and your own hair, resulting in a longer-lasting result!
This high-gloss, medium-hold finishing spray is best used after applying Hair Thickening Fibers.
WHAT IT DOES:
SureThik Holding Spray strengthens the link between natural hair and the fibers of the hair. Because the fibers leave a matte finish, the spray restores to the hair and, unlike standard hair sprays, can be brushed for up to 15 seconds after application.
Tips:
Spray 2–4 pumps evenly over the required region once SureThik Hair Thickening Fibers are in place and hair is styled. The Holding Spray takes 15 seconds to fully set. If required, continue to style your hair.
For further information and video tutorials, go visit our How to Apply page.
HOW LONG DO SURETHIK HAIR FIBERS LAST?
We're sure you've wondered not just how long hair thickening fibers last but also how to make them last even longer if necessary. For example, how long will the threads stay on your hair, as well as how long will a bottle last? Let's look and answer this question!
SureThik Hair Fibers are made of natural organic keratin that is also electrostatically charged, letting them to blend in seamlessly with your hair and remain put all day. Select a bottle size that meets your requirements: How long your bottle will last depend on how many visible indications of hair loss or thinning you wish to conceal. For example, a 15g bottle will usually last 30-40 days, and a 30g bottle will last 60-80 days. However, this can vary depending on how much hair loss you have and if used daily. 
DO THE HAIR BUILDING FIBERS LAST OVERNIGHT?
It's not an issue. SureThik Fibers will last all night in your hair, requiring just little touch-ups in the morning.
One of our Surethik user claim that:
"I have been using Surethik for many years now and it is an amazing product that hides how thin my hair is on top, giving me a fuller looking head of hair. I can all day and overnight without worrying about fall out"- Wende
For more detail on how long SureThik Check out our website for more information: https://surethik.ca/pages/faq