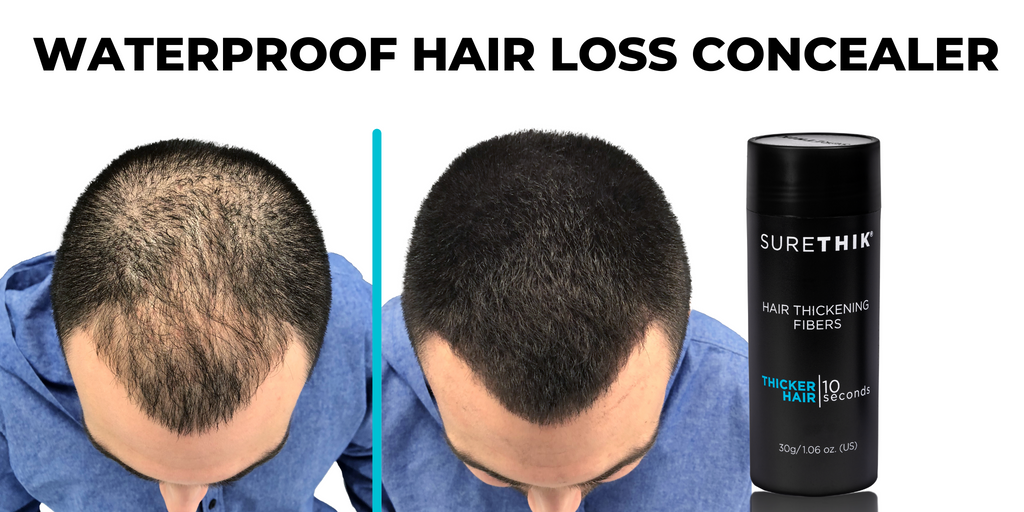 Waterproof Hair Loss Concealer
While hair loss can happen for a many different reasons, with genetics, lifestyle and stress being the most common sources. Incorporating a hair loss concealer or hair thickening fiber spray into your routine remains an effective hair enhancement method for those struggling with thinning, bald spots, etc.
Which hair loss concealer is right for you?
As a temporary solution, there are several kinds of hair loss concealers on the market, aimed for different types of hair loss and thinning and the variety and types can be confusing, so let us gather the best performing for each hair loss type and the best way to use them.
1. Color Sprays: 
Color sprays are not the most ideal for individuals with lots of hair loss, they can provide a good pick me up for grey hair that needs a color touch up in the roots, but do not provide the best coverage on the scalp. They act as a color boost and can cover areas where the hair is starting to grow white, which can look like thinning specially in faired skin individuals, they are quick and cover the grey hairs efficiently but do not add thickness and volume to thinning hair. For active individuals or people that lives in weathers with a lot of humidity, sprays are not the best option as they can smear and leak color.
Image belongs to L'Oreal (c)
2. Pastes:
A hair-color-matched paste can be very effective to conceal more advance cases of hair loss, as it sticks to the hair and colors the scalp, successfully covering the thinning areas. However, pastes can be sticky and hair to apply in a way that looks natural, as they can cover "a little too much", and look like the head is literally painted. On the good side, many pastes are waterproof as they tend to be oil-based, therefore the risk of the product watering down is less than with a colored touch-up spray.
3. Hair Fibers:
Hair fibers have become increasingly popular over the years and for good reason. With a dry, solid product that, if formulated properly can guarantee a mess-free application, as it's not a liquid or a paste, it's easier to apply and looks more natural. However, low-quality fibers or fibers made with cheaper materials such as cotton, can look very unnatural and flakey, and also fall off the hair, without enjoying the long-lasting benefits of a better product. When searching for hair loss concealers, always aim for a high-performance hair fiber that is made with natural keratin, being keratin the same protein our hair is naturally made of, high quality keratin fibers look and feel natural, and blend effortlessly, making hair appear thicker and fuller immediately, without the risk of leaking, smearing or moving around. SureThik's SureStay™ proprietary formula of electrostatically charged fibers ensures that the fibers attach to hair like a magnet, making it thicker and fuller and staying where applied all day; no smearing or smudging, and are sweat, rain and humidity resistant. 
And of course, if you want an extra hold for a particular activity, you can always add one to two pumps of SureThik Alcohol-Free Holding spray, to set the fibers in and add a bit of natural shine.  
Bonus: What can I use to make my hair thicker if I had a hair transplant?
It's very important for your health and overall good results that you wait until yout surgeon checks that your scalp has fully healed and products and styling can be resumed. For people that want a little extra thickness while they away for their hair growth after a transplant, and also for transplant patients that still would like extra thickness and a fuller hair, hair fibers are one of the easiest, most efficient products to use along, without risking the overall health of the scalp and the results of the transplant, as fibers do not clog the pores or have any side effects whatsoever. They are easy to apply and a perfect match for hair transplant. See this example below:
Learn more of our technology and why we are different on www.surethik.com/technology