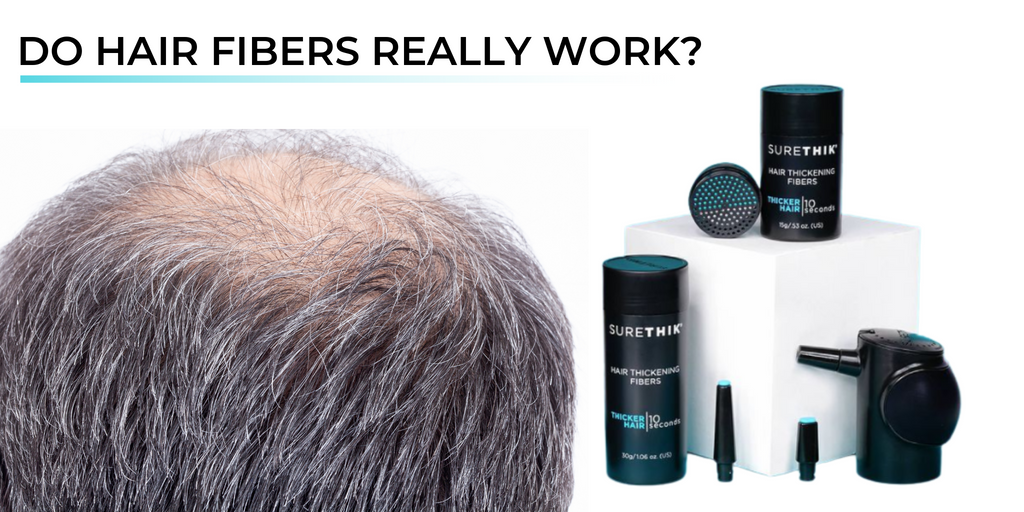 Do hair fibers really work?
People usually question about the adverse effects of hair fibers and whether they should be cautious when using them. This is a legitimate concern that should not be disregarded.
Hair fibers are fantastic for hiding hair loss. Because the hair fibers are made of keratin, the same protein present in human hair, this is the case. Which can improve the look of thinning hair right away. Even so, styling the hair properly and using the hair fibers to make the thinner regions look larger will take some skill.
So, let's look at five tips to assist you get the most out of your hair fibers and answer the question, "Do Hair Fibers Really Work?"
 1: WHAT ARE HAIR FIBERS? 
The quality Keratin used to make SureThik Hair Building Fibers is derived from a natural source and is virtually comparable to human hair, allowing the Fibers to blend in naturally and undetectably. Other Keratin fibers are made from lower-grade materials such as fish bones, nails, and hooves, and have a feel and look that pales in contrast to SureThik' s premium Fibers.
Fibers stick to every hair type because the natural Keratin utilized by SureThik has an inbuilt static charge. Cotton, plant-based fabrics, and rayon imitators lack this intrinsic static charge. As a result, they have nothing to attach them to the hair, causing them to clump, move, or fall over the scalp, creating an unnatural appearance. The Fibers are resistant to wind, rain, and sweat thanks to SureThik' s revolutionary technology.
 Because keratin is a protein found in human hair, utilizing the same substance guarantees a natural-looking, nearly unnoticeable result.
2: WHO CAN BENEFIT FROM HAIR FIBERS?
One of the best things about using hair fibers is that virtually anyone can use them for hair fibers. Whether as a thickening agent or a concealer for advanced hair thinning, they cannot, however, cover complete baldness since they require some hair strands to cling to.
Men and women can use hair building fibers to treat various hair loss and thinning issues, including male and female pattern baldness, postpartum hair loss, hair transplant, alopecia and more.
Fact: Nationally, 59.1 percent of Canadian women feel baldness would have an impact on their overall confidence, compared to 40.9 percent of males, by using hair fibers such as SureThik it can help people with hair loss gain more confidence by helping conceal specific areas of hair thinning.
3: ARE HAIR FIBERS SAFE? 
YES! SureThik hair fibers are entirely safe to use. They won't clog your hair and are perfectly safe to especially those composed entirely of natural keratin. In addition, they don't harm our hair because they're formed of the same protein as it, so they keep it healthy and strong no matter what fibers it's composed of.
4: THE BEST HAIR FIBER PRODUCTS: 
Hair-building fibers are not all made equal! So how can you know which hair fibers are the best? As previously stated, fibers produced entirely of natural keratin have a significantly superior finish to those made of cotton, plant derivatives, and other synthetic materials.
SureThik hair fibers, for example, include a unique Electro-statically charged fibers attach to the hair effortlessly. In addition, the SureStay™ formula does not contain any harsh chemicals, fibers stick naturally and connect to individual hair strands and scalp for a more natural look. 
 It is also critical to find a hair binding fiber with color-lock technology, preventing the dye from seeping and coloring in mild rain or sweat. Some fibers without this technology can actually 'bleed out' throughout the day, which is the last thing any fiber wearer wants!
5: DO HAIR FIBERS REALLY WORK?
Now the answer to your question... do they really work?
YES! They actually do! We've seen tens of thousands of alterations and before-and-after photos. In addition to the testing that we perform on our products, we also conduct market research. SureThik actually works and can improve people's life, which makes us very pleased and confident. Because our fiber is formed of natural keratin, it blends perfectly. With eight distinct colors to choose from, you're sure to discover the perfect match for your hair.